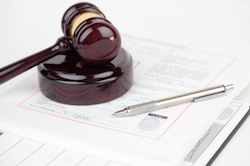 In late 1999, with its stock in free fall, NCS HealthCare, a provider of pharmacy services to long-term care facilities, began "exploring strategic alternatives" – code in the mergers and acquisitions world that NCS's board wanted to put the company up for sale.
In 2001, Omnicare, a larger provider in the same general industry, offered to buy NCS for $270 million, a number lower than the value of the company's debt. The deal would have left the company's stockholders with nothing, and talks broke down when NCS demanded a higher price. In June 2002, Omnicare's fierce rival Genesis HealthCare came to the table with an offer for NCS. Fearful of having its deal stolen away by Omnicare, which had just beaten Genesis in a bidding contest for another company, Genesis proposed a condition on the deal. It would make an offer only if NCS's chairman and president, who together held a majority of the voting shares, committed to the Genesis deal and rejected any competing offer from Omnicare. NCS accepted this condition, and the merger was announced on July 28, 2002.
Just as Genesis had predicted, Omnicare launched a higher-value offer for NCS. Omnicare also filed a lawsuit, insisting that Genesis's "shareholder-lockup" agreement with the NCS  controlling shareholders was invalid under Delaware corporate law – an argument that the Delaware Court of Chancery rejected. The Delaware Supreme Court reversed, striking down the agreement as a violation of the NCS board's fiduciary duty to its shareholders. With the deal condition invalidated, the NCS board sold the company to Omnicare.
The decision was roundly criticized. The Delaware Supreme Court failed to understand the value-creating benefits of the deal condition: without it, Genesis would not have bid, and NCS stock would have continued its free fall. The court's decision thwarted an excellent use of a condition to the deal.
Related Article: A Value Creation Checklist
Related Posts