conflict resolution steps
The steps necessary to begin to successfully resolve a conflict.
The following items are tagged conflict resolution steps:
By following these steps, you can keep your edge while encouraging cooperative, rather than competitive, behavior in conflict management. … Read
The Clearinghouse at PON offers hundreds of role simulations, from two-party, single-issue negotiations to complex multi-party exercises. The Pullman Strike Role Play is a simulation from the Workable Peace Curriculum Series unit on the rise of organized labor in the United States. This role play is set in the town of Pullman, Illinois, outside of Chicago, … Read
Negotiation and Leadership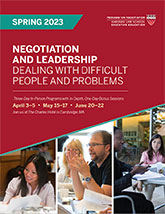 Negotiation Essentials Online
Teaching Negotiation Resource Center
Preparing for Negotiation
Understanding how to arrange the meeting space is a key aspect of preparing for negotiation. In this video, Professor Guhan Subramanian discusses a real world example of how seating arrangements can influence a negotiator's success. This discussion was held at the 3 day executive education workshop for senior executives at the Program on Negotiation at Harvard Law School.
Guhan Subramanian is the Professor of Law and Business at the Harvard Law School and Professor of Business Law at the Harvard Business School.