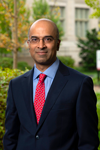 Faculty Chair, Program on Negotiation at Harvard Law School
Joseph H. Flom Professor of Law and Business, Harvard Law School
Douglas Weaver Professor of Business Law, Harvard Business School
Faculty Chair, J.D./M.B.A. Program, Harvard University
The first person in the history of Harvard University to hold tenured appointments at both Harvard Law School (HLS) and Harvard Business School (HBS), Guhan Subramanian is a consummate educator, dealmaker, and leader. As the chair of the Program on Negotiation, he spearheads negotiation and mediation training programs for the more than 3,000 professionals who attend every year. At HLS, Subramanian teaches courses on negotiation and corporate law. At HBS, he teaches in several executive education programs, including Strategic Negotiations, Changing the Game, Making Corporate Boards More Effective, and Mergers and Acquisitions, of which he is faculty chair.
Subramanian's research focuses on corporate governance, corporate law, and negotiation. His books include Dealmaking: The New Strategy of Negotiauctions. Eleven of his articles have been selected as being among the "top 10" articles published in corporate and securities law. The two-volume treatise Law and Economics of Mergers and Acquisitions, which includes 33 seminal articles from the field over the past 45 years, contains four of his articles—more than from any other scholar.
Subramanian advises individuals, boards of directors, and management teams on issues of dealmaking and corporate governance. He has been involved in major public-company deals, such as Oracle's $10 billion hostile takeover bid for PeopleSoft, Cox Enterprises' $9 billion freeze-out of the minority shareholders in Cox Communications, Exelon's $8 billion hostile takeover bid for NRG, and the $26 billion management buyout of Dell Inc. Over the past 10 years, he has been an advisor or expert witness in deals or situations worth more than $150 billion in total value. He is also the director of LKQ Corporation (NASDAQ: LKQ), a Fortune 500 company in the automotive sector.
Education
A.B., Harvard University
J.D., Harvard University
M.B.A., Harvard Business School
Research interests
Corporate law, corporate finance, dispute resolution, dealmaking, negotiation, corporate governance, mergers and acquisitions
Selected publications
"Deal Process Design in Management Buyouts." Harvard Law Review 130, no. 2 (2016): 590–658.
With Fernan Restrepo. "The New Look of Deal Protection." Stanford Law Review 69, no. 4 (2017): 1013–1074.
"Corporate Governance 2.0." Harvard Business Review93, no. 3 (2015): 96–105.
Dealmaking: The New Strategy of Negotiauctions.Norton, 2011.
With William T. Allen and Reinier Kraakman. Commentaries and Cases on the Law of Business Organization.4th ed. Aspen, 2012.