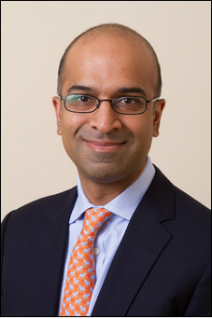 Professor Guhan Subramanian '98 will be the new chair of the Program on Negotiation (PON) at Harvard Law School. Subramanian holds appointments at both Harvard Law School, where he is the Joseph H. Flom Professor of Law and Business, and Harvard Business School, where he is the H. Douglas Weaver Professor of Business Law. As chair of PON, he will succeed Robert H. Mnookin `68, Samuel Williston Professor of Law at Harvard Law School. The appointment will be effective on July 1.
"Harvard Law School and the entire negotiation community are fortunate indeed to see this torch passed from one exceptional academic leader to another," said John F. Manning '85, dean of Harvard Law School. "Bob Mnookin's scholarship and interdisciplinary approach to negotiation have enriched not just the Program on Negotiation, but the entire field of negotiation. I'm confident that Guhan Subramanian – a great scholar, teacher, and academic innovator and a valued member of both the HLS and HBS faculties – will continue to advance PON's leadership in the many communities that intersect with its important work."
Click to read the full article on Harvard Law Today.
Related Posts