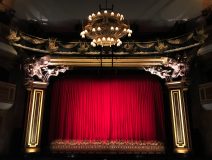 Performers have increasingly learned business negotiation skills and played an outsized role in shaping plays and musicals vying for a Broadway stage. In 2016, the original off-Broadway cast of Hamilton negotiated with the show's producers to acknowledge their contributions to the hit musical by guaranteeing them a small share of the show's profits.
With other actors asking for similar guarantees, Actors' Equity, a union representing 51,000 performers and stage managers, tried to negotiate an industrywide profit-sharing agreement with the Broadway League, a trade organization for producers, but was rebuffed. According to the New York Times, producers privately have argued that actors are already being paid for their work and that investors should reap both the financial risks and rewards of the shows they support. By contrast, some actors believe Broadway should adopt the practice used in television of paying performers residuals for work that is profitable over time.
To try to force a deal, Actors' Equity ordered its members not to participate in developmental labs, readings, and workshops for new shows aimed at Broadway. The gambit worked: Five weeks later, Actors' Equity announced it had reached a deal with the Broadway League to end the work stoppage and put more money in the pockets of actors and stage managers. Similar to the agreement reached by Hamilton's off-Broadway cast, collaborators are entitled to split 1% of profits from a Broadway show and its touring productions for the show's first 10 years, according to the Times. The deal also raised the standard salary paid to actors and stage managers, which had stood at $1,000 per week for developmental labs.
Because of the harm labor strikes and work stoppages often inflict on innocent bystanders, not to mention the parties themselves, they should generally be a last-resort strategy. But the Actors' Equity work stoppage points to the potential effectiveness of business negotiation skills that include worsening your counterparts' BATNA, or best alternative to a negotiated agreement, when they won't come to the table.
The outcomes of another dispute highlights how seemingly weak parties can ensure they have a voice in decisions that affect them.
Using creative business negotiation skills when you lack power
You may recall how Amazon's high-profile contest to host its second headquarters, HQ2, prompted 238 North American cities and regions to pour precious resources into crafting proposals aimed at enticing the retailing behemoth to their area. When Amazon revealed that it would be dividing HQ2 between the most obvious contenders—New York City and the Washington, D.C., area—many cried foul. Had the competition been nothing more than a publicity stunt aimed at driving up tax incentives and securing valuable information about communities for use in future projects?
In New York, some were outraged when they learned that the state's governor, Andrew Cuomo, and New York City's mayor, Bill de Blasio, had secretly promised $3 billion in government incentives to Amazon and worked with the company to bypass standard land-use approval processes. Amazon insisted the incentives were a small price to pay for the more than 25,000 jobs and $27.5 billion in state and city revenue it predicted New York would reap over the next 25 years.
But some community groups and politicians noted that a company with a more than $1 trillion market value clearly didn't need corporate welfare. They also criticized Amazon for its anti-union practices and said Amazon's planned campus in Long Island City, Queens, would force out longtime residents by driving up the cost of living.
To try to win the public-opinion battle, Amazon executives and lobbyists met with residents and leafleted Queens with fliers extolling the potential benefits of the campus to local businesses. Amazon also promised to create high school and community college programs aimed at preparing students for entry-level technology jobs, according to the New York Times.
Polls showed that a majority of New Yorkers, including those in Queens, supported the deal. But, facing vociferous opposition at City Council hearings, Amazon executives hinted that the company was thinking twice about joining the community. A meeting that Cuomo mediated between Amazon executives and union leaders ended without agreement.
Amazon announced it was withdrawing from the deal because of opposition from "a number of state and local politicians." The company said it had no plans to reopen its HQ2 contest but would continue to grow its existing teams in other New York boroughs.
By requiring Cuomo and de Blasio to sign a nondisclosure agreement that excluded potential critics and the public from the decision-making process, showed a poor grasp of business negotiation skills on the part of Amazon, and may have doomed its New York deal from the start. Savvy negotiators anticipate opposition, recognize the perils of excluding interested parties from agreements that will affect them, and negotiate with key stakeholders every step of the way. The days when top negotiators could strike deals without caring about securing "back table" ownership of agreements from impacted stakeholders may be ending.
How have you used business negotiation skills to turn a negotiation in your favor?
Related Posts