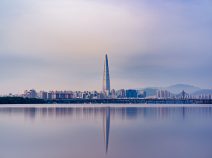 The United States and South Korea were both hit hard by the coronavirus. Yet while South Korea swiftly limited the virus's impact, infection and death rates have soared in the United States. What can the United States and other countries learn from South Korea's coronavirus response and how can they better prepare for future pandemics? A May 8 online talk facilitated by Brandeis University professor and PON affiliate faculty Alain Lempereur and Brandeis associate dean Maria Madison, "COVID-19 Lessons from the Korean Peninsula and Beyond: Enhancing Cooperation," highlights the value of collaborative leadership among government officials and scientists.
Korea's 3T Approach
As of early May, South Korea had suffered coronavirus infection death rates similar to those of the U.S. state of Rhode Island, though South Korea has about 50 million more residents than the small New England state. How did South Korea manage to not just "flatten the curve" of Covid-19 infections, but smother it?
We might assume that strict stay-at-home orders were needed to prevent virus transmission, but that wasn't the case, according to panel member Yonghyon Kim, consul general of the Republic of Korea in Boston. Instead, closely following the advice of scientists, the Korean government showed effective leadership by quickly instituting a three-pronged "test, trace, and treat" policy:
As soon as the threat of the virus became apparent, the government fast-tracked the approval of Covid-19 test kits developed by private biotechnology companies. Testing was soon widely available, allowing infections to be accurately diagnosed.
The government instituted a rigorous technology-based contact-tracing initiative that adhered to privacy laws. People who learn they have been potentially exposed to the virus are expected to self-isolate.
People diagnosed with Covid-19 are categorized into four groups according to the severity of their illness and assigned to appropriate facilities. Those who are infected but asymptomatic are quarantined apart from their families.
The 3T approach has allowed the country to ensure openness, transparency, and adherence to democratic principles while making public safety its top priority, according to Consul General Kim. The success of the approach has not only limited the spread of the virus, but largely enabled the South Korean economy to remain open.
Learning from the Past
Thorough preparation was key to South Korea's effective coronavirus response, according to panel member Jerome Kim, the director general of the South Korea-based International Vaccine Institute (IVI). The government's response to the 2015 MERS coronavirus outbreak had been criticized as lacking transparency. Learning from its past mistakes, the government showed visionary leadership by thoroughly preparing for the possible outbreak of a new virus. Through tabletop exercises, South Korea developed a system of escalating alerts regarding the local and national spread of a virus. At the highest level of alert, the prime minister is put in charge of instituting unified command and controls.
To determine its Covid-19 response and messaging, South Korea adhered to its collaborative leadership approach by relying on the advice of scientists and other experts. Other countries that have allowed scientists to guide their coronavirus responses, including New Zealand and Australia, have been among the most successful at addressing the first round of the outbreak, Jerome Kim noted.
Transparency and Trust
The South Korean government won over citizens' trust in its organizational leadership by sharing all relevant data transparently, Jerome Kim said. He noted that the contact-tracing system was approved as part of a new infection-control law act before the crisis. "When you tamper with people's privacy, it's better to have had the discussion before the emergency, when emotions are high," according to Kim.
Kim described how the high-tech contact-tracing initiative works: If the government learns that someone diagnosed with Covid-19 was at a bar, it quickly identifies others who likely were at the bar that night through their cell-phone signals. Those who may have been exposed receive alerts on their phones advising them to self-isolate and contact the health ministry if they develop any symptoms of the disease.
Consul General Yonghyon Kim said that South Korea's experience with past viruses, including SARS and MERS, fostered a culture of compliance with government health directives and trust in the healthcare system. "As compared to Europe or America, South Koreans had in their minds that this could happen in their country," he said.
Collaboration and Cooperation
Collaborative leadership with the private sector was at the heart of Korea's response. South Korea is also committed to cooperating with other nations, including North Korea, by sharing its best practices and providing humanitarian assistance.
By comparison, the United States "has not had a unified command approach, a way to unify our messaging nationally," said panel member Dr. Michael VanRooyen, director of the Harvard Humanitarian Initiative and chair of Emergency Medicine at Brigham and Women's Hospital in Boston.
"Korea is open to foreigners but still homogeneous," noted Consul General Kim. "We're very closely knit and connected. We share information very quickly and efficiently, good or bad. If some area is vulnerable, they know instantly on the internet. That helped us a lot." Low levels of poverty and universal high-quality health care also helped keep the virus in check, according to Kim.
Lessons Learned
What levers of cooperation and leadership skills can we identify to translate South Korea's coronavirus response to other parts of world?
"Preparedness," said VanRooyen. "The idea of having systems that allow us to create an instant command center that uses real-time data and fluency of communication." Noting that the United States fell behind early on contact tracing and is having trouble catching up, he added, "Being aggressive about contact tracing early on is an important lesson learned."
Lempereur summed up principles of responsible leadership shared during the discussion:
Build trust among all stakeholders to promote compliance.
Gather real-time data aligned with Korea's "3T" approach.
Enhance a sense of responsibility to enable cooperation.
What forms of effective collaborative leadership have you observed during the coronavirus pandemic?
Related Posts