"

The India-Pakistan Peace Initiative: The Role of GEO TV Network

"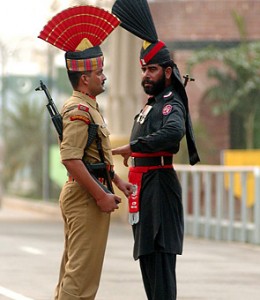 with
Mir Ibrahim Rahman, CEO, GEO TV Network
Date: March 9, 2010

Time: 4-6 PM
Where: CGIS Building, Weatherhead Center for International Affairs,
1737 Cambridge Street, Room N-262, Cambridge MA
Contact Chair: Donna Hicks (dhicks@wcfia.harvard.edu).
Speaker Bio
Mir Ibrahim Rahman (MIR), CEO of GEO TV Network, has been at the helm of affairs of Pakistan's fastest growing and most popular media brand for over 8 years. A former Goldman Sachs investment banker, specializing in media and telecom, Mir has overseen the launch and growth of GEO from a
5 member operation out of a hotel to a 2,500+ strong South-Asian content producer and broadcaster with 10 channels globally. GEO's mission is to create an enabling platform for thinking and questioning in Pakistan.
The New York Times confirms that "GEO has changed the media landscape" of the country. Mir graduated Summa Cum Laude with Honors from Babson College in Economics, Finance and Entrepreneurship in 2000 and co founded GEO when he was just 25. His alma mater has dubbed MIR the "Robin Hood of Information" for Pakistan, helping bring ground-breaking consciousness to social political discourse. Mir is the youngest member of Young President's Organization in Pakistan, Charter member of The Indus Entrepreneur and Director of Mir Khalil ur Rahman Foundation. Mir and his wife, Sheena, are currently taking a study leave together at Harvard for their Masters in Political Administration and Education respectively.
About the Herbert C. Kelman Seminar Series
The 2009-2010 Herbert C. Kelman Seminar on International Conflict Analysis and Resolution series is sponsored by the Program on Negotiation, the Nieman Foundation for Journalism, the Joan Shorenstein Center on the Press, Politics, and Public Policy, The Weatherhead Center for International Affairs, and the MIT-Harvard Public Disputes Program, as well as Boston area members of the Alliance for Peacebuilding. The theme for this year's Kelman Seminar is "Reconciliation: Coming together after the shooting stops"