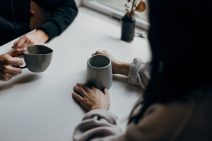 In the business world, companies often work so hard to outperform their direct competitors that they overlook opportunities to meet their goals through collaborative negotiation. Several negotiations in the news describe competitors forging innovative partnerships that allowed them to cooperate and compete.
Teaming Up on Product Design
In 2013, U.S. automakers Ford and General Motors announced they were teaming up to develop two new automatic transmissions (a nine-speed and a 10-speed) to comply with tightening fuel-economy regulations. Through collaborative negotiation, the companies found a way to share the high costs of hardware development without affecting their brand identities, writes John Rosevear on The Motley Fool website.
Once they'd designed the hardware, the companies independently developed control software for the transmissions. This enabled them to tailor the parts to their vehicles—while keeping privileged information to themselves.
Through such joint ventures, organizations can find innovative ways to collaborate that still allow them to compete and protect trade secrets. Such partnerships may be particularly suited to developing products customers don't usually see.
Emphasizing Differences to Create Value
In their book Co-opetition (Doubleday, 1996), Adam M. Brandenburger and Barry J. Nalebuff coin the term "complementor" to refer to market players—including competitors—who can make your product or service more valuable. In recent years, Amazon and Microsoft attempted to become complementors in the realm of digital assistants.
Amazon, Apple, Google, Microsoft, and other tech companies invested millions into devices such as the Echo, Siri, Google Assistant, and Cortana, but the field quickly became a "fragmented mess," writes Steve Kovach for Insider. "Want to use Alexa? Great! But it's really only useful on the Amazon Echo [speaker]," writes Kovach. "Want to use Siri? Fine. But you're stuck inside Apple's hardware ecosystem."
In May 2016, Amazon chief Jeff Bezos approached Microsoft CEO Satya Nadella at Microsoft's annual CEO Summit with a plan to tackle this obstacle by making their devices compatible, the New York Times reports. Nadella was intrigued by Bezos's suggestion that allowing the assistants to "talk" to each other could help artificial intelligence devices go mainstream. 
Following Amazon's "working backward" process, Bezos emailed Nadella a draft of a hypothetical press release describing how their products would work together. The two then agreed on the outlines of their collaborative negotiation. 
Alexa and Cortana were officially integrated in August 2018, but the partnership was short-lived: Microsoft called it off in September 2021. Michael Can and Michael Muchmore of PCMag.com speculate that few people used Cortana on Echo devices and note that Microsoft chose to focus Cortana on its business productivity software. "It's yet another case of Microsoft abandoning its own technology and yielding to a more successful competitor," they write. While the collaboration didn't pay off, it was a valiant effort to try to expand the pie. 
Collaborating to Do the Right Thing
As the AIDS epidemic ravaged Africa in the late 1990s, Western pharmaceutical companies faced global outrage for charging high prices for their AIDS drugs—about $12,000 per patient per year. In 2001, Mumbai, India–based pharmaceutical firm Cipla rocked the industry by selling its cocktail of AIDS drugs to the nonprofit Doctors Without Borders for just $350 per year. Other major pharmaceutical firms soon followed suit, and the initiative is credited with saving millions of lives. Rather than competing on price in Africa, the firms compete on an index that rates how effective they are at getting their products to the poor.
As life expectancy has increased across Africa, thanks to lower mortality from AIDS and other diseases, the continent has faced a growing threat: cancer. In part due to a shortage of cancer drugs, oncologists, and technologies, cancer mortality rates are much higher in Africa than in the developed world. 
In October 2017, Cipla and New York City–based pharmaceutical giant Pfizer announced an agreement to significantly discount the prices of 16 common chemotherapy drugs in six African nations, the Times reports. As this collaborative negotiation shows, competitors often have unique opportunities to efficiently create value for those who need it most. 
A Note on Collusion
At its best, a collaborative negotiation between competitors benefits consumers and society. At its worst, it squelches competition and harms consumers, as when firms secretly collude to fix prices. When considering a collaboration with a competitor, keep your lawyers involved to ensure you engage in an ethical negotiation whose outcome will not violate antitrust laws. 
3 Guidelines for Collaborative Negotiation with Competitors
Three negotiation principles emerge from our collaborative negotiation examples:
Look for ways to sidestep trust concerns.

When considering

collaborative negotiation

between competitors, brainstorm practical ways to make privacy and trust concerns moot, as GM and Ford did.

Focus on broadening rather than narrowing the market.

Instead of battling to be the last one standing, try to ensure the market's long-term health by collaborating on innovative ways to attract customers. 

Maximize your good deeds.

Competitors often can give back to society more efficiently by negotiating joint agreements to tackle pressing problems.
How have your experiences in collaborative negotiation with competitors turned out?
Related Posts