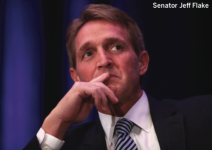 On the morning of September 28, Republican senator Jeff Flake of Arizona announced he would vote in favor of U.S. Court of Appeals judge Brett Kavanaugh's nomination to the U.S. Supreme Court. A week later, on October 6, Flake did just that. But in between those two events, the intervention of two protestors and a Democratic colleague led Flake to waffle on his decision.
In today's polarized Washington, instances of legislators diverging from their party's position are so rare as to be noteworthy. The story behind Flake's brief rebellion suggests tips negotiators in other realms can try to win over reluctant or conflicted counterparts.
A sleepless night and an impassioned plea
During a Senate Judiciary Committee hearing on September 27, research psychologist Christine Blasey Ford testified that Kavanaugh had attempted to rape her when they were both in high school, an accusation Kavanaugh vociferously denied and attributed to partisan politics in his own testimony the same day. After the hearing, all but one of the 21 Judiciary Committee members signaled they would vote along party lines (Republicans for Kavanaugh, Democrats against), leaving Flake to cast the deciding vote.
The following morning, after what he called "a sleepless night," Flake announced he would support Kavanaugh's nomination despite having "left the hearing yesterday with as much doubt as certainty."
On his way to the committee vote from his office, Flake entered an elevator and was confronted by two anti-Kavanaugh protestors, Maria Gallagher and Ana Maria Archila. As Flake hung his head, a distressed look on his face, the two women implored him for five minutes not to diminish the experiences of sexual- assault survivors such as themselves by voting for Kavanaugh.
"I was sexually assaulted and nobody believed me," Gallagher said, her voice thick with emotion. "I didn't tell anyone, and you're telling all women that they don't matter."
An impromptu negotiation
At the Judiciary Committee meeting that followed, Republicans angrily defended Kavanaugh prior to the scheduled vote, while some Democratic senators walked out in protest of what they called a rushed process. Democratic senator Chris Coons, a friend of Flake's, stayed in the room. Coons proposed that the committee delay its vote by one week to give the FBI time to conduct an investigation of the claims against the nominee.
Later, Coons said he had prepared the argument expressly to "persuade my friend, Jeff Flake." Known as one of the last bipartisan bridge builders in Congress, Coons assiduously cultivates relationships with Republicans across the aisle through travel, prayer meetings, and legislative work, according to USA Today. Having bonded over their shared passion for Africa while working together on the Senate Foreign Relations subcommittee, Coons and Flake traveled to the continent together several times to promote economic development and other shared causes—once even being chased in their safari vehicle by elephants.
After Coons spoke, Flake approached him and led him to a private room to negotiate. As other senators filed in, Flake told his colleagues that he was uncomfortable with the accusations against Kavanaugh and was leaning toward asking for an FBI investigation, sources told the Associated Press. Republicans tried to talk Flake out of the idea. The scheduled vote time came and went. Flake tried to reach FBI director Christopher Wray on the phone but instead ended up speaking with Deputy Attorney General Rod Rosenstein, who reportedly assured him that the FBI would be able to investigate the most pertinent and credible accusations against Kavanaugh within a week.
Coons and other Democrats urged Flake to ask to put the committee vote on hold. Instead, Flake said he wanted the committee to approve Kavanaugh's nomination, followed by a one-week FBI investigation before a final vote of the full Senate. Flake touched base with Republicans Susan Collins and Lisa Murkowski, two other senators who were reportedly undecided about Kavanaugh. After they agreed to
back his plan, Flake shared it with Republican committee chairman Chuck Grassley. Senate majority leader Mitch McConnell had little choice but to accept Flake's proposal.
3 powerful persuasion tactics
After reading the FBI's report a week later, Flake concluded that no new information corroborating Ford's allegations had turned up, and he joined a narrow Senate majority in voting to appoint Kavanaugh to the Supreme Court.
Though the Democrats' efforts to win over Flake ultimately failed, their success in convincing him to put the brakes on the confirmation process hinged on some noteworthy persuasion strategies:
1. Save emotional appeals for when it counts. Strong emotions can impair decision making in negotiation by making us more impulsive and irrational. Yet as the two protestors who confronted Flake on the elevator showed, when it really matters, intense emotions can grip a counterpart's attention—and perhaps tug on his conscience—much more powerfully than a calmly delivered argument would.
2. Build bridges right from the start. Wise negotiators wander beyond their comfort zone to engage with people who have different views. Shared passions, such as Coons's and Flake's love of Africa, can lead to connection and trust. Speaking of his friendship with Coons, Flake told the Associated Press, "We've been through a lot. And the trust that you develop working with each other on issues . . . that's how compromises are possible." You might eventually reap tangible benefits from a close bond with a rival—or you may just make a good friend.
3. Don't give up too soon. Believing there was nothing they could do to get their way, some Democrats on the Senate Judiciary Committee walked out in protest before the scheduled vote. Coons, by contrast, held out hope that he could inspire a last- minute change of heart from Flake and crafted a speech for his friend. It turned out to be just what Flake needed to hear.
Related Posts