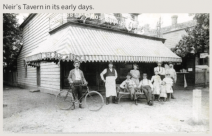 When your negotiating leverage seems to be nonexistent, you may need to enlist the help of an influential advocate. The owner of a venerable New York bar came to that realization just in the nick of time.
More than just a watering hole
Neir's Tavern, which opened in the Woodhaven neighborhood of Queens in 1829, may be the oldest New York City bar to operate continually in the same location—except during Prohibition, when it reportedly became a speakeasy posing as a flower shop. Mae West is said to have staged early performances at the bar, which has been immortalized in several films, most notably Martin Scorsese's 1990 mafia classic, Goodfellas.
In 2009, Loycent Gordon, a Jamaican immigrant and New York Fire Department lieutenant, bought and restored Neir's, which he affectionately calls "the most famous bar you've never heard of," the New York Times reports. Located in an unassuming building in a working-class neighborhood, the bar doesn't have the same cachet as historic Manhattan bars. New York City's Landmark Preservation Commission declined to give the tavern landmark status in 2015.
But for many locals, Neir's is more than just a bar. "This area doesn't have the money to build their own community center, but they had Neir's Tavern," Gordon told the Times. He offers the bar up as a meeting space for local organizations and dreamed of buying the building and opening a museum and cultural center.
Those hopes were dashed in December 2018, when brothers Henry and Qing Shi bought the building, which includes a martial arts studio and several residential apartments, for $1.35 million. The new owners quickly raised Neir's monthly rent from $2,000 to $3,000. Gordon struggled to keep the bar solvent. Then, near the end of 2019, the landlords told him they would be hiking his rent to $5,400.
Last call for alcohol?
In the middle of happy hour on Wednesday, January 8, Gordon tearfully announced to staff and customers that the tavern would close that Sunday "unless a miracle happens." Gordon said he'd been losing money and didn't see a way to keep Neir's open.
But he wasn't quite ready to give up. Gordon made a last-ditch appeal to New York mayor Bill de Blasio's office, according to the New York Daily News. The mayor, City Councilman Robert Holden, New York Assemblyman Mike Miller, and Queens Chamber of Commerce CEO Tom Grech gathered on Friday, January 10, with Gordon and the Shi brothers to try to hammer out a compromise.
"We spent two hours at the chamber of commerce today," Grech later told the New York Post. "I locked the door, and I said we're not going to leave until we have a deal."
The talks were tense until Henry Shi revealed that he was having difficulty getting a mortgage on the building because it lacked a proper certificate of occupancy and didn't comply with current zoning rules, Holden told the Times.
That knowledge led to a breakthrough. Shi agreed to a much lower rent increase for Neir's in exchange for a promise from Holden that the building would get up to date with zoning requirements. The mayor promised Gordon a $90,000 small-business grant to spend on improvements to the business, according to the Daily News. Shi and Gordon shook on a new five- year lease with a renewal option.
Raise a glass
What was to have been the start of a farewell weekend turned into a victory party, combined with a rally led by proponents of commercial rent-stabilization measures aimed at protecting small New York businesses. De Blasio poured beer and accepted thanks for his intervention.
Gordon told Gothamist he was looking ahead to Neir's 200th anniversary in 2029 and hoping the publicity would give the bar another chance at achieving landmark status. He also took a moment to reflect on the past, noting that Neir's was just one of many New York businesses struggling to stay afloat amid "long-term speculation by landlords."
Local businesses, Gordon said, "don't have the same kind of leverage" in negotiations with landlords: "What are we going to say, we'll walk away from our business? That's not leverage." Mayor de Blasio has declined to support proposed formal rent protections for small businesses, saying the courts were likely to overturn them, according to Gothamist.
As revelers toasted Neir's future, Teresa Cruz Arcos, who has lived above the bar with her daughter, sister, and nephew since 2013, headed downstairs, according to the Queens Daily Eagle. Cruz Arcos was happy for the bar but uneasy about her own future in the building. Benefiting from a New York state law that excludes small buildings from rent stabilization, the Shis have been trying to evict Cruz Arcos and her family. Cruz Arcos said they're up to date on their rent but haven't had a formal lease in years. A real-estate brochure produced when the Shis briefly put the building on the market suggested the next buyer might be able to charge $2,800 for the apartment—about double what Cruz Arcos' family pays.
At Neir's, Cruz Arcos approached de Blasio with advocates from a local nonprofit group that has been helping her fight the eviction in court. A representative from the mayor's office later told the Eagle that the city would try to intervene to help keep Cruz Arcos and her family in their home.
Bellying up to the bargaining table
Look for friends in high places. Gordon rightly calculated that, in New York's current real estate market, he didn't have much leverage in negotiations with his landlord. Seeking assistance from a much more powerful party—the mayor—was a bold move that gave Gordon the publicity and leverage he needed. Cruz Arcos then wisely took advantage of the focus on Neir's to plead her own case to the mayor.
Probe their underlying interests. Negotiators often miss out on a simple strategy for breaking through impasse: Ask questions aimed at better understanding the other party's refusal to back down. Only after Henry Shi disclosed barriers the building was posing to his plans were the negotiators able to envision possible solutions.
Level the playing field. The mayor's office can't come to the assistance of every New York tenant facing soaring rents. To help preserve the city's character and appease the public, New York leaders would be wise to come up with more systemic ways of giving tenants greater power in dealings with landlords.
Related Posts