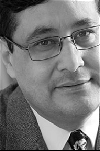 Director of the Frederick S. Pardee Center for the Study of the Longer-Range Future and Professor of International Relations and Geography and the Environment at Boston University, Professor Najam also served as a Lead Author for the Intergovernmental Panel on Climate Change (IPCC), work for which the IPCC was awarded the 2007 Nobel Peace Prize along with Al Gore. In 2009, Professor Najam was appointed to serve on the UN Committee for Development Policy, a 24 member panel that advises the UN Economic and Social Council. In addition to Boston University, Najam has taught at the Massachusetts Institute of Technology (MIT), University of Massachusetts, and at the Fletcher School of Law and Diplomacy, Tufts Univeristy. He has written over 100 scholarly papers and book chapters and serves on the editorial boards of many scholarly journals. Professor Najam is an expert in international diplomacy and development. His research interests include sustainable development, Muslim and South Asian politics, environmental politics in developing countries, and philanthropy among immigrant communities in the United States. Much of his work has focused on longer-term global policy problems, especially those related to human well-being and sustainable development. He contributed to Pakistan's first environmental policy document, as well as to that country's report to the 1992 Rio Earth Summit, has worked closely with governments and civil society in both industrialized and developing countries, and regularly collaborates with the United Nations. Professor Najam is a Senior Fellow at the International Institute for Sustainable Development (IISD), a Visiting Fellow at the Sustainable Development Policy Institute (SDPI), and serves on the Boards of the Pakistan Institute for Environment-Development Action Research (PIEDAR) and the Center for Global Studies at the University of Victoria, Canada.
Courses Taught:
Current Issues in International Environmental Affairs (IR/GE 794) – Fletcher School of Law and Diplomacy, Tufts University
Research Interests: Specialization: International Negotiation; Sustainable Development; Human Development and Human Security; International Environmental Politics; Politics of the Muslim World; Politics of South Asia.
Select Publications:
Adil Najam, Ricardo Melendez, and Adil Najam (editors). 2007. Trade and Environment: Visions from the South. New York: Palgrave-MacMillan Press.
Adil Najam, Mark Halle and Ricardo Melendez (editors). 2007. Trade and Environment: A Resourcebook. Winnipeg: IISD/ICTSD.
Adil Najam. 2006. Portrait of a Giving Community: Philanthropy by the Pakistani-American Diaspora . Published by the Global Equity Initiative at Harvard University. Cambridge, MA: Harvard University.
Adil Najam, Mihaela Papa and Nadaa Taiyab. 2006. Global Environmental Governance: A Reform Agenda. Winnipeg, Canada: International Institute for Sustainable Development.
Adil Najam. 2006. "Negotiating Desertification" in Governing Global Desertification, edited by Pierre Marc Johnson, Karel Mayrand and Marc Paquin. Pages 59-73. Cheltenham, UK: Edward Elgar Press
Link to website: