PON co-sponsors workshops on negotiation for Arab and Jewish high school students in Israel
This video introduces a series of workshops that brought together students from Arab and Jewish schools in Israel to teach them how to communicate and negotiate more effectively.  As Taibeh student Rima Nuseirat realized over the course of the program, "sometimes in a negotiation it is not necessary to have someone who is a winner and someone who is a loser."  Arab and Jewish students rarely have a chance to meet each other, but through these workshops and by visiting each others' schools, they had an opportunity to cultivate friendships and gain greater understanding of their commonalities.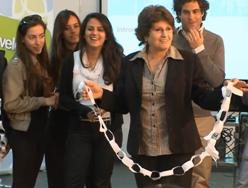 PON's Senior Fellow Shula Gilad, who is responsible for the program with her colleague Rachel Tal from the Amal Network, explains that while the workshops avoided political issues, their aim was to teach the "skills and tools that they can use and apply in everyday life," which can also help them "analyze conflicts around them that are usually not approachable or solvable."
To date, 360 students from 3 Arab and 3 Jewish schools have participated in these two-day workshops, sponsored by the Public Diplomacy program of the US Embassy in Tel Aviv.  Four new schools have now joined the program, which will enable 120 additional 11th graders to take advantage of this opportunity by the end of the academic year.
To see additional videos about this program, and other PON videos, click here.