Harvard Negotiation Master Class
Advanced Strategies for Experienced Negotiators
November 11-13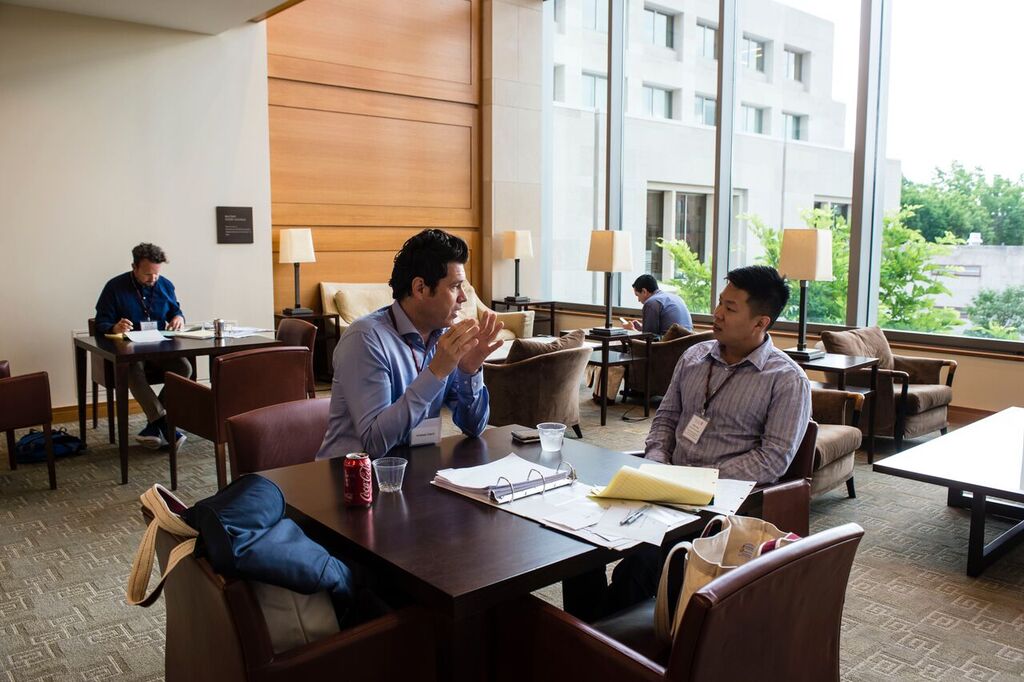 Take Your Negotiation Skills to the Master Level
What if you could negotiate at an even higher level? The Harvard Negotiation Master Class is designed for people like you: strong negotiators who want to become even better.
Strictly limited to 60 participants who have completed a prior course in negotiation, this first-of-its-kind program offers unprecedented access to experts from Harvard Law School, Harvard Business School, and the Massachusetts Institute of Technology—all of whom are committed to delivering a transformational learning experience.
Through small learning groups, dynamic exercises with two-way feedback, and intensive simulations, you will gain proven frameworks for addressing your most complicated negotiation challenges—emerging a highly skilled and confident dealmaker.
Top Five Reasons to Attend the Harvard Negotiation Master Class
Identify and eliminate your negotiating weaknesses.
Learn how to leverage your bargaining skills in new ways.
Become expert at resolving and defusing conflict anywhere.
Develop the skills necessary to remain in—or ascend to—the C-suite and upper management.
Master new strategies that most negotiators have never seen before.
Join the Ranks of the Master Dealmakers
The Harvard Negotiation Master Class offers the rare opportunity to step away from your day-to-day responsibilities to focus on developing a competency that will serve you the rest of your professional life. After three intensive days, you will emerge a highly confident negotiator who truly understands the game—and how to play it.
About the Program on Negotiation
Widely recognized as the preeminent leader in the field of negotiation, negotiation research, and dispute resolution, the Program on Negotiation (PON) is an interdisciplinary multi-university consortium based at Harvard Law School. Since its founding in 1983, PON has established itself as one of the world's outstanding executive education negotiation training institutions.
Leaders in Negotiation Executive Education
PON's executive education training programs are designed to help participants become successful negotiators, deal with difficult people and hard bargainers, structure deals, and manage conflict productively.
Each session of the Harvard Negotiation Master Class is limited to just 60 participants to ensure a highly personalized experience.
World-renowned faculty members from Harvard and MIT comprise the teaching team.
Who Should Attend
The Harvard Negotiation Master Class attracts a diverse group of participants—all of whom are proficient negotiators who wish to take their skills to the next level.
Participants typically have 10-20 years of negotiation experience and have taken a prior course with the Program on Negotiation or a comparable program. The program is appropriate for CEOs, VPs, directors, and managers across a wide range of job functions including sales, operations, human resources, and marketing as well as for individuals in the education, government and nonprofit sectors.
Past Participants










…And Many More!
Fees and Dates
Three days: $4,995
Harvard Negotiation Master Class sessions:
November 11-13, 2019
Venue:
Kimpton Marlowe Hotel
Cambridge, Massachusetts
Participant Feedback
"This course is designed to truly change the way one thinks about negotiating on many levels."
"This is the best program of negotiation in the world."
"This is definitely a very good investment of time, effort, and money."
"This program brings real-world negotiation skills into focus."
Our Team

Gabriella Blum
November 2019 session
November 2019 session
November 2019 session
Gabriella Blum is a member of the Program on Negotiation Executive Committee and faculty director of the Program on International Law and Armed Conflict. She is widely published in the fields of public international law and the law and morality of war, and is a Carnegie Fellow and recipient of the Roy C. Palmer Civil Liberties Prize.
FRANCESCA GINO
November 2019 session
November 2019 session
November 2019 session
Francesca Gino is the Tandon Family Professor of Business Administration in the Negotiation, Organizations & Markets Unit at Harvard Business School, where she focuses on judgment and decision-making, negotiation, ethics, motivation, and productivity. Professor Gino is also affiliated with the Mind, Brain, Behavior Initiative at Harvard and the Behavioral Insight Group at Harvard Kennedy School.

Brian Mandell
November 2019 session
November 2019 session
November 2019 session
Brian Mandell is the Mohammad Kamal Senior Lecturer in Negotiation and Public Policy at the Harvard Kennedy School, a faculty associate at the Center for Public Leadership, and director of the Negotiation Project. He has established himself as a preeminent teacher and curriculum designer at the Harvard Kennedy School.
Lawrence E. Susskind
November 2019 session
November 2019 session
November 2019 session
Lawrence Susskind is the Ford Foundation Professor of Urban and Environmental Planning at the Massachusetts Institute of Technology and one of the founders of PON, where he is vice chair for instruction and director of the Teaching Negotiation Resource Center.
November 2019 Agenda
Session 1
The First 180 Seconds: Creating Impactful Openings
Led by Brian Mandell
As a seasoned negotiator, you know to come prepared for the full arc of a negotiation. Research shows, however, that a negotiator should spend just as much time preparing for the first 180 seconds of a negotiation encounter. That's because the outcomes of the very first interactions—where negotiators act upon thin slices of information—disproportionately affect overall success. Moreover, when things go awry in these critical first few moments, it can be difficult to recover. In this session, you'll learn to set the tone, agenda, create rapport, and build momentum at the outset of a negotiation.
Session 2
Two-Level Games: Managing Constituencies Throughout the Dealmaking Process
Led by Gabriella Blum
As you climb the leadership ladder, negotiation becomes a more complex process. Any deal you reach with your counterparts needs to be acceptable to the people you're representing. For example, political leaders need the support of their publics, heads of unions must secure the agreement of the union members, and CEOs need to consider the positions of their companies' boards and shareholders. Your constituents' viewpoints are of great significance to your negotiations—they can propel an agreement, or they can effectively block it. Paradoxically, however, while support from constituencies makes it easier for you to reach an agreement, it also makes it easier for your counterpart to force you to accept less favorable terms.
This session will introduce you to the theory and practice of two-level games—the idea that every negotiation occurs not only across the table, but also behind the table. We will discuss strategies for managing your own constituencies and ways you can influence the other party's constituencies to your advantage. During this session, you will:
Gain an understanding of the two-level games framework
Explore real-world scenarios
Practice your newfound insights
Session 3
Uncovering and Overcoming Bias at the Negotiation Table
Led by Francesca Gino
Entering into a negotiation, we assume that our counterparts will act rationally. Yet often, our counterparts seem uninterested in reaching resolution, creating value, or even maximizing their own self-interest. In many cases, negotiations are derailed by cognitive biases—assumptions and systematic errors that can cloud judgment, affect decisions, harm outcomes, and even escalate conflict.
To help you better understand this phenomenon and the psychology behind it, this session summarizes the latest research on biases that influence behavior during negotiations—and provides a framework for managing them. During the session, you will:
Explore real-world scenarios—To illuminate the consequences of psychological biases, we will evaluate a series of situations in which decision makers confront issues of seeming irrationality, including the possibility of costly escalation. These interactive scenarios will delve into confirmation bias, overconfidence bias, lack of perspective taking, narrow focus, status quo bias, and the endowment effect.
Probe internal biases—You will be asked to complete a "biased mind" exercise before class begins to identify your own biases and then take part in a guided discussion of the results during the session.
Practice your newfound strategies—In an interactive negotiation simulation, participant teams will learn how to manage their own biases as well as those of their counterparts.
By engaging in an interactive discussion, you will gain an understanding of the tools and techniques that can be used to manage bias in negotiations and conflict situations. You will emerge with an improved sense of self-awareness, enhanced ability to avoid systematic negotiation errors, and a helpful framework for managing your own biases as well as those of your negotiation counterparts. To prepare for this session, we will make
Session 4
Multiparty Negotiations: Strategies for Improving Individual Performance
Led by Lawrence Susskind
As a participant in this advanced program, you're undoubtedly familiar with what it takes to succeed in two-party negotiations. However, multiparty negotiations, whether inside your own organization or with external parties, are far more complex. When there are more parties, the usual two-party approach to negotiation or problem-solving won't be sufficient to ensure good results. This session focuses on the three key ways to achieve success in multiparty negotiations. Learn how to:
1. Build coalitions
2. Manage multiparty negotiations
3. Experience informal problem solving
To highlight theoretical lessons and help you develop key multiparty negotiation skills, this session includes two interactive simulations, along with case studies, and engaging classroom discussions.