Harvard Negotiation Master Class
Advanced Strategies for Experienced Negotiators
April 6-8th, 2020 – This course is now closed.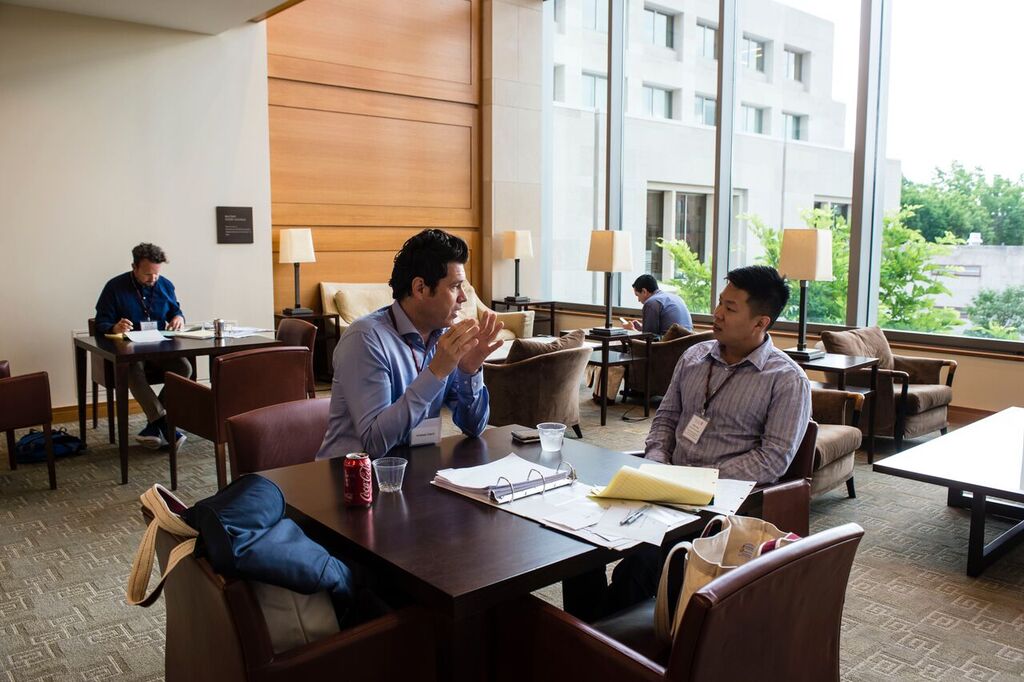 Take Your Negotiation Skills to the Master Level
What if you could negotiate at an even higher level? The Harvard Negotiation Master Class is designed for people like you: strong negotiators who want to become even better.
Strictly limited to 60 participants who have completed a prior course in negotiation, this first-of-its-kind program offers unprecedented access to experts from Harvard Law School, Harvard Business School, and the Massachusetts Institute of Technology—all of whom are committed to delivering a transformational learning experience.
Through small learning groups, dynamic exercises with two-way feedback, and intensive simulations, you will gain proven frameworks for addressing your most complicated negotiation challenges—emerging a highly skilled and confident dealmaker.
Top Five Reasons to Attend the Harvard Negotiation Master Class
Identify and eliminate your negotiating weaknesses.
Learn how to leverage your bargaining skills in new ways.
Become expert at resolving and defusing conflict anywhere.
Develop the skills necessary to remain in—or ascend to—the C-suite and upper management.
Master new strategies that most negotiators have never seen before.
Join the Ranks of the Master Dealmakers
The Harvard Negotiation Master Class offers the rare opportunity to step away from your day-to-day responsibilities to focus on developing a competency that will serve you the rest of your professional life. After three intensive days, you will emerge a highly confident negotiator who truly understands the game—and how to play it.
About the Program on Negotiation
Widely recognized as the preeminent leader in the field of negotiation, negotiation research, and dispute resolution, the Program on Negotiation (PON) is an interdisciplinary multi-university consortium based at Harvard Law School. Since its founding in 1983, PON has established itself as one of the world's outstanding executive education negotiation training institutions.
Leaders in Negotiation Executive Education
PON's executive education training programs are designed to help participants become successful negotiators, deal with difficult people and hard bargainers, structure deals, and manage conflict productively.
Each session of the Harvard Negotiation Master Class is limited to just 60 participants to ensure a highly personalized experience.
World-renowned faculty members from Harvard and MIT comprise the teaching team.
Who Should Attend
The Harvard Negotiation Master Class attracts a diverse group of participants—all of whom are proficient negotiators who wish to take their skills to the next level.
Participants typically have 10-20 years of negotiation experience and have taken a prior course with the Program on Negotiation or a comparable program. The program is appropriate for CEOs, VPs, directors, and managers across a wide range of job functions including sales, operations, human resources, and marketing as well as for individuals in the education, government and nonprofit sectors.
Past Participants










…And Many More!
Fees and Dates
Three days: $5,497
Harvard Negotiation Master Class sessions:
April 6-8th, 2020
Venue:
Kimpton Marlowe Hotel
Cambridge, Massachusetts
Participant Feedback
"This course is designed to truly change the way one thinks about negotiating on many levels."
"This is the best program of negotiation in the world."
"This is definitely a very good investment of time, effort, and money."
"This program brings real-world negotiation skills into focus."
Our Team

Sheila Heen
April 2020 session
April 2020 session
April 2020 session
Sheila Heen is a lecturer on law at Harvard Law School, co-founder and CEO of Triad Consulting Group, and senior affiliate of the Harvard Negotiation Project, where she has spent the last 20 years developing negotiation theory and practice. She additionally teaches in executive education and MBA leadership programs at Dartmouth's Tuck School of Business and Washington University's Olin School of Management.
Francesca Gino
April 2020 session
April 2020 session
April 2020 session
Francesca Gino is the Tandon Family Professor of Business Administration in the Negotiation, Organizations & Markets Unit at Harvard Business School, where she focuses on judgment and decision-making, negotiation, ethics, motivation, and productivity. Professor Gino is also affiliated with the Mind, Brain, Behavior Initiative at Harvard and the Behavioral Insight Group at Harvard Kennedy School.

Daniel L. Shapiro
April 2020 session
April 2020 session
April 2020 session
Daniel Shapiro teaches a highly evaluated course on negotiation at Harvard College; instructs psychology interns at Harvard Medical School/McLean Hospital; and leads executive education sessions at the Program on Negotiation at Harvard Law School, Harvard Kennedy School, and Harvard Medical School/McLean Hospital.
Lawrence E. Susskind
April 2020 session
April 2020 session
April 2020 session
Lawrence Susskind is the Ford Foundation Professor of Urban and Environmental Planning at the Massachusetts Institute of Technology and one of the founders of PON, where he is vice chair for instruction and director of the Teaching Negotiation Resource Center.
April 2020 Agenda
Session 1
Negotiating Emotionally Charged Conflicts
Led by Daniel L. Shapiro
When an organization's leaders are deadlocked on the issue of budget allocation; when a work team takes sides on the question of who should be appointed leader; or when a company grows and the firm's original employees fear losing the firm's unique culture and values; how do we bridge the divide? Divisive dynamics can tear apart the closest friendship, break up a marriage, and destroy a business—and create lingering feelings of pain and fear. Yet, whether at home or at work, it's impossible to avoid emotionally charged conflicts.
Led by Daniel Shapiro, this session will explore processes and tools for mending even the toughest emotional divides. Going far beyond me versus you and us versus them, this one-day program will focus on integrative dynamics—a powerful method for transforming emotionally charged conflicts into opportunities for mutual benefit.
Through highly interactive discussions and exercises, you'll examine the four steps to integrative dynamics:
Uncover the mythos of identity. Understand each side's narrative—how they see the conflict and their place in it.
Work through the emotional pain and resentments. Acknowledge each other's emotional angst and use psychological techniques to work through it.
Build crosscutting connections. Attune to the level of connection—and strengthen relations.
Reshape the relationship. Envision scenarios for coexistence, and find ways to fortify relations into the future.
Session 2
Thanks for the Feedback: Moving from "Experienced" to "Masterful"
Led by Sheila Heen
As we become more experienced negotiators, past successes reinforce our strengths, and we increasingly default to strategies and approaches that have served us well in the past. As a result, our repertoire becomes deeper, but not broader. And our blind spots—the places where we are missing opportunities, frustrating others, or settling for suboptimal outcomes—become increasingly invisible to us.
To compound the challenge, as we become more senior in any organization, fewer and fewer people are willing to give us candid coaching, even as our blind spots have a larger and larger impact on our deals, our team, our colleagues, and our organization.
Most organizations combat this problem by teaching people how to give feedback skillfully and often. And that helps, some. But at the end of the day, it's the receiver who is in charge. It's the receiver who decides whether and how to take in the feedback, what sense to make of it, and whether and how to change. And, it turns out, receiving feedback is among the most challenging aspects of being human and of having relationships—both professional and personal.
Session 3
Uncovering and Overcoming Bias at the Negotiation Table
Led by Francesca Gino
Entering into a negotiation, we assume that our counterparts will act rationally. Yet often, our counterparts seem uninterested in reaching resolution, creating value, or even maximizing their own self-interest. In many cases, negotiations are derailed by cognitive biases—assumptions and systematic errors that can cloud judgment, affect decisions, harm outcomes, and even escalate conflict.
To help you better understand this phenomenon and the psychology behind it, this session summarizes the latest research on biases that influence behavior during negotiations—and provides a framework for managing them. During the session, you will:
Explore real-world scenarios—To illuminate the consequences of psychological biases, we will evaluate a series of situations in which decision makers confront issues of seeming irrationality, including the possibility of costly escalation. These interactive scenarios will delve into confirmation bias, overconfidence bias, lack of perspective taking, narrow focus, status quo bias, and the endowment effect.
Probe internal biases—You will be asked to complete a "biased mind" exercise before class begins to identify your own biases and then take part in a guided discussion of the results during the session.
Practice your newfound strategies—In an interactive negotiation simulation, participant teams will learn how to manage their own biases as well as those of their counterparts.
By engaging in an interactive discussion, you will gain an understanding of the tools and techniques that can be used to manage bias in negotiations and conflict situations. You will emerge with an improved sense of self-awareness, enhanced ability to avoid systematic negotiation errors, and a helpful framework for managing your own biases as well as those of your negotiation counterparts. To prepare for this session, we will make
Session 4
Multiparty Negotiations: Strategies for Improving Individual Performance
Led by Lawrence Susskind
As a participant in this advanced program, you're undoubtedly familiar with what it takes to succeed in two-party negotiations. However, multiparty negotiations, whether inside your own organization or with external parties, are far more complex. When there are more parties, the usual two-party approach to negotiation or problem-solving won't be sufficient to ensure good results. This session focuses on the three key ways to achieve success in multiparty negotiations. Learn how to:
1. Build coalitions
2. Manage multiparty negotiations
3. Experience informal problem solving
To highlight theoretical lessons and help you develop key multiparty negotiation skills, this session includes two interactive simulations, along with case studies, and engaging classroom discussions.