Harvard Negotiation Master Class
Advanced Strategies for Experienced Negotiators
March 28-30, 2017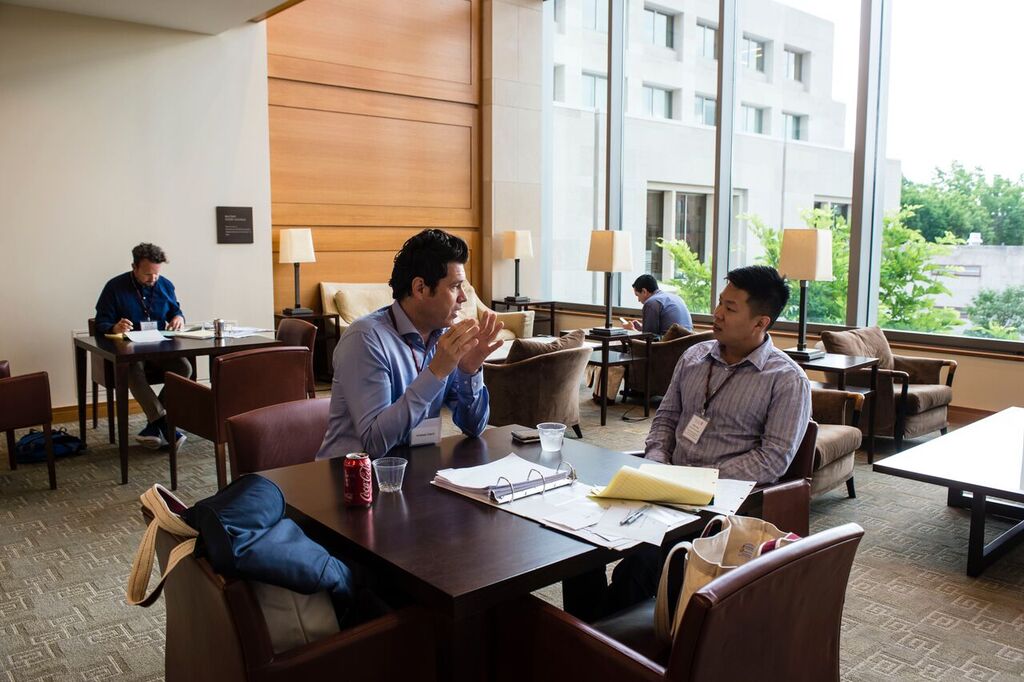 Take Your Negotiation Skills to the Master Level
What if you could negotiate at an even higher level? The Harvard Negotiation Master Class is designed for people like you: strong negotiators who want to become even better.
Strictly limited to 60 participants who have completed a prior course in negotiation, this first-of-its-kind program offers unprecedented access to experts from Harvard Law School, Harvard Business School, and the Massachusetts Institute of Technology—all of whom are committed to delivering a transformational learning experience. By working closely with them, you will:
Discover the four dimensions of subjective value
Visualize potential pitfalls and landmines in your negotiations
Incorporate emotional preparation into every negotiation
Assess your organization's negotiating capacity
Understand why negotiation training often fails
Through small learning groups, dynamic exercises with two-way feedback, and intensive simulations, you will gain proven frameworks for addressing your most complicated negotiation challenges—emerging a highly skilled and confident dealmaker.
Top 5 Reasons to Attend the Harvard Negotiation Master Class
Identify and eliminate your negotiating weaknesses.
Learn how to leverage your bargaining skills in new ways.
Become expert at resolving and defusing conflict anywhere.
Develop the skills necessary to remain in—or ascend to—the C-suite and upper management.
Master new strategies that most negotiators have never seen before.
Join the Ranks of the Master Dealmakers
The Harvard Negotiation Master Class offers the rare opportunity to step away from your day-to-day responsibilities to focus on developing a competency that will serve you the rest of your professional life. After three intensive days, you will emerge a highly confident negotiator who truly understands the game—and how to play it.
About the Program on Negotiation
Widely recognized as the preeminent leader in the field of negotiation, negotiation research, and dispute resolution, the Program on Negotiation (PON) is an interdisciplinary multi-university consortium based at Harvard Law School. Since its founding in 1983, PON has established itself as one of the world's outstanding executive education negotiation training institutions.
Leaders in Negotiation Executive Education
PON's executive education training programs are designed to help participants become successful negotiators, deal with difficult people and hard bargainers, structure deals, and manage conflict productively.
Each session of the Harvard Negotiation Master Class is limited to just 60 participants to ensure a highly personalized experience.
World-renowned faculty members from Harvard and MIT comprise the teaching team.
Who Should Attend
The Harvard Negotiation Master Class attracts a diverse group of participants—all of whom are proficient negotiators who wish to take their skills to the next level.
Participants typically have 10-20 years of negotiation experience and have taken a prior course with the Program on Negotiation or a comparable program. The program is appropriate for CEOs, VPs, directors, and managers across a wide range of job functions including sales, operations, human resources, and marketing as well as for individuals in the education, government and nonprofit sectors.
Past Participants










…And Many More!
Fees and Dates
Three days: $4,995
Harvard Negotiation Master Class sessions
November 16-18, 2016
March 28-30, 2017
Venue:
The Charles Hotel
Cambridge, Massachusetts
Participant Feedback
"This course is designed to truly change the way one thinks about negotiating on many levels."
"This is the best program of negotiation in the world."
"This is definitely a very good investment of time, effort, and money."
"This program brings real-world negotiation skills into focus."
Our Team

Jared Curhan
November 2016
& March 2017
sessions
November 2016 &
March 2017 sessions
November 2016 &
March 2017 sessions
Ford International Career Development Professor; Associate Professor of Organization Studies, MIT Sloan School of Management
Francesca Gino
November 2016
session
November 2016
session
November 2016 session
Professor of Business Administration, Negotiation & Markets Unit of Harvard Business School
Kimberlyn Leary
March 2017
session
March 2017
session
March 2017 session
Associate Professor of Psychology, Harvard Medical School; Director of Psychology and Training, Cambridge Health Alliance
Guhan Subramanian
November 2016
& March 2017
sessions
November 2016 &
March 2017 sessions
November 2016 &
March 2017 sessions
Joseph Flom Professor of Law and Business, Harvard Law School; Douglas Weaver Professor of Business Law, Harvard Business School
Lawrence E. Susskind
November 2016
& March 2017
sessions
November 2016 &
March 2017 sessions
November 2016 &
March 2017 sessions
Ford Professor of Urban and Environmental Planning, The Massachusetts Institute of Technology
March 2017 Agenda
Session 1
Analyzing Objective and Subjective Value in Negotiation
You'll learn how to maximize both objective and subjective value in negotiation and gain greater self-awareness as you understand how impressions affect your negotiation counterparts. By taking part in a scored negotiation simulation, you'll gain extensive, personalized feedback on multiple aspects of your negotiation performance.
Session 2
Dealing with the Toughest Questions: Anticipating and Responding Effectively
You'll acquire best practices for visualizing and responding to challenges that you are likely to face at the bargaining table. Discover how to avoid potential negotiation pitfalls and short-circuit dead-ends by participating in role-play exercises.
Session 3
Diversifying the Negotiator's Emotional Portfolio
You'll learn how to add emotional preparation to your negotiation toolkit. Through case study discussions, videotaped simulations, and interactive exercises, you'll improve your negotiating outcomes by identifying the emotional frames that both you and your counterpart bring to the table.
*Please download the Brochure (below) for a description of Professor Gino's session in November 2016.
Session 4
Building a World-Class Negotiating Organization
In the final session, you'll identify the critical steps to enhancing negotiation capabilities across your organization. Specifically, you'll explore ways to undertake a negotiation audit, implement performance reviews, and improve negotiation training.