View Issue Archive by Date
You have reached a subscribers-only page for accessing the archive of Negotiation Briefings. A username and password are required. Not yet a subscriber? Wait till you see all that you've been missing. Why not start your subscription to Negotiation Briefings right now!
Problem
Sorry, but no Back Issues were found.
Negotiation and Leadership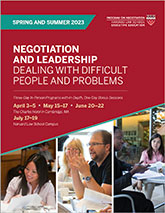 Negotiation Essentials Online
Teaching Negotiation Resource Center
Preparing for Negotiation
Understanding how to arrange the meeting space is a key aspect of preparing for negotiation. In this video, Professor Guhan Subramanian discusses a real world example of how seating arrangements can influence a negotiator's success. This discussion was held at the 3 day executive education workshop for senior executives at the Program on Negotiation at Harvard Law School.
Guhan Subramanian is the Professor of Law and Business at the Harvard Law School and Professor of Business Law at the Harvard Business School.