The Art of Negotiation and the Sports Industry
The Program on Negotiation,
Harvard Law School Negotiators,
Harvard Negotiation Law Review,
the Committee on Sports and Entertainment Law,
the Journal of Sports and Entertainment Law,
and the Harvard Mediation Program are pleased to present:
The Art of Negotiation and the Sports Industry
with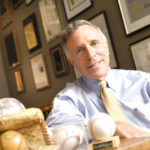 Ron Shapiro (HLS '67)
Tuesday, March 6, 2018
12:00 – 12:50 pm
Wasserstein Hall, Room 2009
Harvard Law School Campus
1585 Massachusetts Ave
Cambridge, MA
About the Speaker:
Ron Shapiro (HLS '67) is an expert negotiator and sports agent. Shapiro has been called "one of baseball's most respected agent-attorneys" by USA Today and named one of the "Top 100 most powerful people in sports" by The Sporting News. His list of clients includes more baseball Hall of Famers than any other sports agent, including Cal Ripken, Jr., Brooks Robinson, Eddie Murray, Jim Palmer, Kirby Puckett, and 2009 American League MVP Joey Mauer. In addition, Shapiro serves as a Special Advisor to the owner of the Baltimore Ravens and to the General Managers of the San Antonio Spurs and the Oklahoma City Thunder. Outside of the sports industry, Ron has negotiated on behalf of many Fortune 500 companies, government agencies, and entertainment personalities.
The event will begin with a student-moderated conversation and will open for attendee questions at the end. Free and open to the public. Lunch will be provided.
Please visit the Facebook event page for updates.