World Peace and Other 4th-Grade Achievements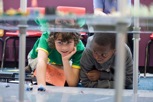 "World Peace and Other 4th-Grade Achievements"
A film screening & discussion with innovative teacher John Hunter and filmmaker Chris Farina.
Date: Wednesday, November 2, 2011

Time: 7:15 PM

Location: Langdell North, Harvard Law School Campus
For over thirty years, a public school teacher in Virginia has been teaching his students the work of peace through a remarkable exercise that he calls the World Peace Games. This film is his story.
A PON Film Series event; co-sponsored by the Harvard Law Documentary Studio.
Pizza, drinks and dessert will be served.
Click here for a campus map.
About the Film
Directed by Chris Farina, World Peace and Other 4th-Grade Achievements interweaves the story of John Hunter, a teacher in Charlottesville, Virginia, with his students' participation in an exercise called the World Peace Game.
The game triggers an eight-week transformation of the children from students of a neighborhood public school to citizens of the world. The film reveals how a wise, loving teacher can unleash students' full potential.
Hunter teaches the concept of peace not as a utopian dream but as an attainable goal to strive for, and he provides his students with the tools for this effort. The children learn to collaborate and communicate with each other as they work to resolve the Game's conflicts. They learn how to compromise while accommodating different perspectives and interests. Most importantly, the students discover that they share a deep and abiding interest in taking care of each other. World Peace and Other 4th-Grade Achievements will inspire others by documenting the unheralded work of a true peacemaker.
About John Hunter
A native Virginian and graduate of Virginia Commonwealth University, John Hunter is an award-winning gifted teacher and educational consultant who has dedicated his life to helping children realize their full potential. Employing his background as a musician composer and filmmaker during a three-decade career as a teacher, Hunter has combined his gifted teaching and artistic talents to develop unique teaching programs using multimedia software programs in creative writing and film courses.
During his university years, he traveled and studied comparative religions and philosophy throughout Japan, India and China. It was while in India, the cradle of gandhian thought, Hunter, intrigued by the principles of non-violence, began to think of how his profession might contribute to peace in the world.
Knowing that ignoring violence would not make it go away, how could he teach peace in an often-violent world? Accepting the reality of violence, he would seek to incorporate ways to explore harmony in various situations. This exploration would take form in the framework of a game – something that students would enjoy. Within the game data space, they would be challenged, while enhancing collaborative and communication skills.
In 1978, at the Richmond Community High School, Hunter led the first sessions of his World Peace Game. Over time, in a synchronous unfolding with the growing global focus on increasingly complex social and political conditions, the game has gained new impetus. As Hunter succinctly explains, "The World Peace Game is about learning to live and work comfortably in the unknown."