PON Film Event: Women, Peace & Power
The Program on Negotiation, Middle East Negotiation Initiative, Kennedy School Negotiation Project, Women in Defense, Diplomacy, and Development, and Women in Power at the Harvard Kennedy School are pleased to present:
WOMEN, PEACE, AND POWER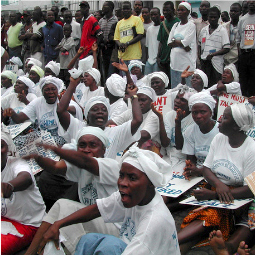 A film screening and discussion with:
Erica Chenoweth
Professor of Public Policy, HKS
Dr. Kessely Hong
Faculty Chair, MPA Programs, Lecturer in Public Policy, HKS
Hind Kabawat
Deputy Head, Syria Negotiation Commission, Geneva
Zoe Marks
Lecturer in Public Policy, HKS
Marie O'Reilly
Senior Advisor, Peace is Loud
Moderated by;
Sarah Boyd
MC/MPA at HKS and women, peace, and security expert.
Tuesday, April 23
6:00 p.m. – 8:00 p.m.
Wexner Building, Room 436
Harvard Kennedy School, Cambridge, MA
Free and open to the public. Refreshments will be provided.
About the Film:
Between 1990 and 2017, 92% of peace negotiators were men. Women, Peace & Power follows the stories of female activists, politicians, and ordinary citizens in Afghanistan, Liberia, and Northern Ireland as they try to influence peace talks against all odds.
While some of these peacebuilders use sit-ins and mass rallies to push for change, others win elections to negotiate at the peace table. All face challenges to their authority and legitimacy as they attempt to steer their countries away from war.
Women, Peace & Power was created by Peace is Loud, a nonprofit organization that uses storytelling to advance social justice movement building, with a focus on women's rights and gender justice. This short film features excerpts from the documentary series Women, War & Peace—to learn more visit www.pbs.org/wnet/women-war-and-peace.
This event is hosted by the Program on Negotiation at Harvard Law School, the Middle East Negotiation Initiative, and student organizations Women in Defense, Diplomacy, and Development, and Women in Power at the Harvard Kennedy School