The Program on Negotiation, the Environmental Law Program at Harvard Law School and the Harvard Law Documentary Studio
are pleased to present a screening of
The Island President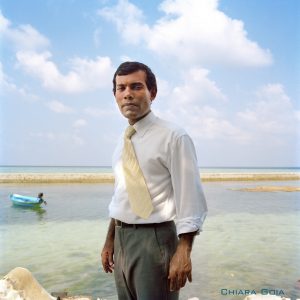 With post-screening discussion led by
Hardy Merriman, Senior Advisor
International Center on Nonviolent Conflict
Monday, November 26, 7:00 p.m.
Langdell North, Room 225, Harvard Law School
Free and open to the public.  Pizza, popcorn and soda provided.
About the Film:
Jon Shenk's The Island President is the story of President Mohamed Nasheed of the Maldives, a man confronting a problem greater than any other world leader has ever faced—the literal survival of his country and everyone in it. After bringing democracy to the Maldives after thirty years of despotic rule, Nasheed is now faced with an even greater challenge: as one of the most low-lying countries in the world, a rise of three feet in sea level would submerge the 1200 islands of the Maldives enough to make them uninhabitable.
The Island President captures Nasheed's first year of office, culminating in his trip to the Copenhagen Climate Summit in 2009, where the film provides a rare glimpse of the political horse-trading that goes on at such a top-level global assembly. Nasheed is unusually candid about revealing his negotiation strategies—leveraging the Maldives' underdog position as a tiny country, harnessing the power of media, and overcoming deadlocks through an appeal to unity with other developing nations. After the completion of the film, President Nasheed resigned the presidency under the threat of violence in a coup d'etat perpetrated by security forces loyal to the former dictator.   Preview the film here
About the Speaker:
Hardy Merriman is a senior advisor at the International Center on Nonviolent Conflict (ICNC). He writes and presents about nonviolent conflict both for academic audiences as well as for activists, organizers, other practitioners. He has contributed to works such as Waging Nonviolent Struggle: 20th Century Practice and 21st Century Potential (2005) by Gene Sharp, Civilian Jihad: Nonviolent Struggle, Democratization, and Governance in the Middle East (2010) by Maria Stephan (ed.), and co-authored A Guide to Effective Nonviolent Struggle (2007), a training curriculum for activists.