Negotiating with New Technology: Shaping the Third Digital Revolution; a book talk with Joel Cutcher-Gershenfeld & Neil Gershenfeld
The Program on Negotiation at Harvard Law School is pleased to present:
Negotiating with New Technology: Shaping the Third Digital Revolution
A book talk with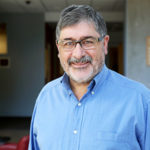 Joel Cutcher-Gershenfeld
Professor, Heller School for Social Policy and Management, Brandeis University
Editor, Negotiation Journal
and
Neil Gershenfeld
Professor and Director, Center for Bits and Atoms, MIT
Tuesday, February 27, 2018
4:00 – 5:30 PM
Pound Hall, Room 102
Harvard Law School Campus
1563 Massachusetts Avenue
Cambridge, MA
Free and open to the public. Refreshments will be provided.
About the Talk:
The first two digital revolutions — in communication and computation — began a half-century ago and have transformed markets and society. The third digital revolution — in fabrication — is still in its early stages, when things are still negotiable. The technology road map points to individuals and communities being increasingly self-sufficient and generative in new ways — literally owning the means of production.
This talk builds on the newly published book, Designing Reality: How to Survive and Thrive in the Third Digital Revolution (Basic Books, 2017), co-authored by Joel Cutcher-Gershenfeld, Neil Gershenfeld and Alan Gershenfeld.
Realizing the full potential of the technology depends on choices we make now — tacit and explicit negotiations at the individual, community, and societal levels. Come learn about the technology and join the conversation as we shape our shared future.
About the Speakers:
Joel Cutcher-Gershenfeld is a professor in the Heller School for Social Policy and Management at Brandeis University. Previously he served as a professor and dean in the School of Labor and Employment Relations at the University of Illinois. Joel is editor of the Negotiation Journal at the Program on Negotiation at Harvard Law School and is past president of the Labor and Employment Relations Association. Joel holds a Ph.D. in industrial relations from MIT and a B.S. in industrial and labor relations from Cornell University.
Joel is an award-winning author who has co-authored or co-edited twelve books, including Designing Reality: Surviving and Thriving in the Third Digital Revolution (Basic Books, 2017), Inside the Ford-UAW Transformation: Pivotal Events in Valuing Work and Delivering Results (MIT Press, 2015), Multinational Human Resource Management and the Law (Edward Elgar, 2013), Valuable Disconnects in Organizational Learning Systems (Oxford University Press, 2005), Lean Enterprise Value (Palgrave, 2002), Knowledge-Driven Work (Oxford University Press, 1998), and Strategic Negotiations (Harvard Business School Press, 1994), and over ninety-five articles, book chapters, and policy papers. He has helped to lead large-scale change initiatives in public and private sectors in Australia, Bermuda, Canada, England, Iceland, Jamaica, New Zealand, Panama, and the United States. Joel's current research is centered on stakeholder alignment in complex systems – a foundation for institutions in the 21st Century.
Neil Gershenfeld is the Director of MIT's Center for Bits and Atoms. His unique laboratory is breaking down boundaries between the digital and physical worlds, from creating molecular quantum computers to virtuosic musical instruments. Technology from his lab has been seen and used in settings including New York's Museum of Modern Art and rural Indian villages, the White House and the World Economic Forum, inner-city community centers and automobile safety systems, Las Vegas shows and Sami herds. He is the author of numerous technical publications, patents, and books including Fab, When Things Start To Think, The Nature of Mathematical Modeling, and The Physics of Information Technology, and has been featured in media such as The New York Times, The Economist, NPR, CNN, and PBS. He is a Fellow of the American Physical Society, has been named one of Scientific American's 50 leaders in science and technology, as one of 40 Modern-Day Leonardos by the Museum of Science and Industry, one of Popular Mechanic's 25 Makers, has been selected as a CNN/Time/Fortune Principal Voice, and by Prospect/Foreign Policy as one of the top 100 public intellectuals. Dr. Gershenfeld has a BA in Physics with High Honors from Swarthmore College, a Ph.D. in Applied Physics from Cornell University, honorary doctorates from Swarthmore College, Strathclyde University and the University of Antwerp, was a Junior Fellow of the Harvard University Society of Fellows, and a member of the research staff at Bell Labs.