The Secret Talks That Led to the Fall of Apartheid
"The Secret Talks
That Led to the Fall of Apartheid"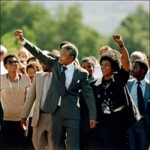 with
Michael Young
Date: Tuesday, March 6, 2012
Time: 7:30 – 9 PM

Where: Langdell North, Harvard Law School
Event is free and open to the public; Refreshments will be served
Co-sponsored by: Harvard Negotiation & Mediation Clinical Program, Program on Negotiation, Harvard Mediation Program, Harvard Negotiation Law Review, and Harvard Negotiators

Speaker Bio

In the 1980's, Michael Young was head of communications for Consolidated Gold Fields, a British mining company with significant assets in South Africa. At the request of African National Congress (ANC) President Oliver Tambo, Young initiated a series of covert negotiations between representatives of the exiled ANC and powerful Afrikaner elite between 1986 and 1990, which led to the end of the apartheid system and the release of Nelson Mandela.
Early in his career, Young served at the Conservative Research Department as an advisor to British Foreign Secretary Sir Alec Douglas-Home where he dealt with matters relating to Africa, Cyprus and the Middle East.  He later served as an economic advisor to Prime Minister Edward Heath and was involved in early negotiations between the British government and Irish republicans.
Young is a specialist in conflict resolution and strategic evaluation. He is currently Chairman of Michael Young Associates, Ltd., which focuses on management counseling, conflict resolution, market positioning and management, regulatory practices, mergers and acquisitions, and bringing new ventures to market.
Young's story and the final days of apartheid in South Africa is the subject of the 2009 British Film Endgame, based on the book The Fall of Apartheid by Robert Harvey.