The New Path to "Yes" – First Steps to Solving Intractable Conflict
The Program on Negotiation at Harvard Law School
and the Abraham's Path Initiative
are pleased to present 
The New Path to "Yes" – First Steps to Solving Intractable Conflict

 with
James Sebenius
Gordon Donaldson Professor of Business Administration at Harvard Business School
and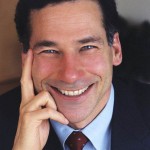 William Ury
Co-author of Getting to Yes
Co-founder, Program on Negotiation
Friday, October 19, 2018
12:00 -1:30 PM
Austin Hall North
Harvard Law School Campus
Cambridge, MA
Free and open to the public.
Bring your own lunch; dessert and drinks will be provided.
About the Event:
Ten years ago, two experts on negotiation, William Ury and James Sebenius were inspired to apply their research and experience to the Middle East. They launched a cross-cultural bridge building effort through a multi-country network of walking trails tracing the ancient journey of Abraham, patriarch of three great religions. Dr. Ury will share how his experience mediating international conflicts inspired his belief in the power of simple first steps. Professor Sebenius will provide a case study of the Abraham Path's unlikely accomplishments in strategic negotiation and social entrepreneurship.
About the speakers:
James Sebenius is the Gordon Donaldson Professor of Business Administration at Harvard Business School, and Vice-Chair for Practice-Focused Research for the Program on Negotiation Executive Committee. He is director of the Harvard Negotiation Project, chair of the Great Negotiator Award Committee and co-director of the American Secretaries of State Program. An authority on complex negotiations, he has advanced the field in the academic realm, in the public and diplomatic sectors, and the business world; outside Harvard, he has worked full-time in the U.S. Commerce and State Departments as well as at the Blackstone Group. At the Harvard Business School, Sebenius spearheaded the effort to make negotiation a required course in the M.B.A. program, and he created the negotiation department, which he led for several years. As a co-founder of Lax Sebenius LLC, he provides negotiation advisory services to corporations and governments worldwide.
William Ury is one of the world's leading experts on negotiation and mediation. As the co-founder of the Program on Negotiation, he is a driving force behind many new negotiation theories and practices. Ury is the co-author with Roger Fisher and Bruce Patton of Getting to Yes, a 15-million-copy bestseller translated into more than 35 languages, and the author of several other books including the award-winning Getting to Yes with Yourself.
Over the last four decades, Ury has served as a negotiation advisor and mediator in conflicts ranging from the Cold War to ethnic and civil wars in the Middle East, Chechnya, Yugoslavia, and most recently in Colombia, where he serves as a senior advisor to President Juan Manuel Santos. In addition to teaching negotiation and mediation to tens of thousands of executives, Ury is the founder of the Abraham Path Initiative, which seeks to bring people together across cultures by opening a long-distance walking route in the Middle East that retraces the footsteps of Abraham and his family. In recognition of his work, he has received the Cloke-Millen Peacemaker Award, the Whitney North Seymour Award from the American Arbitration Association, and the Distinguished Service Medal from the Russian Parliament.