"The Ghost Army" Screening and Discussion with Film Director Rick Beyer
The PON Film Series is pleased to present:
The Ghost Army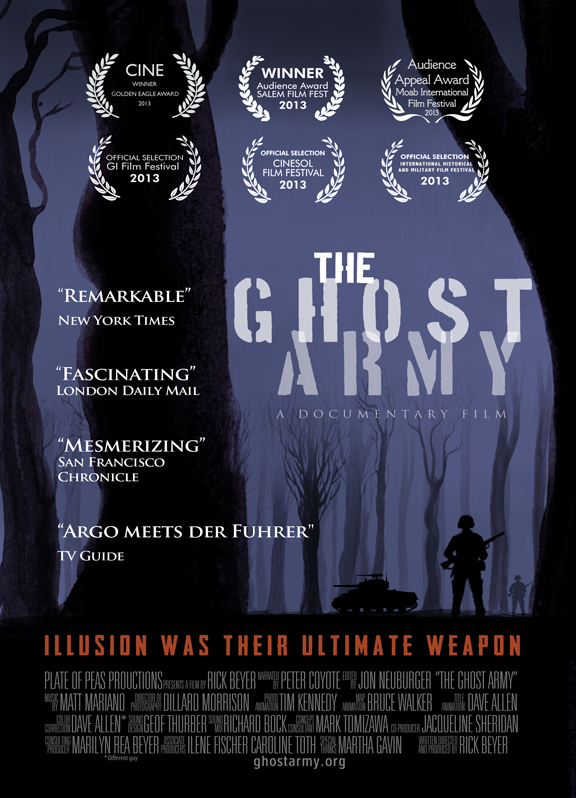 Join us for a screening and discussion with
film director Rick Beyer.
Wednesday, October 1, 2014
7:00 PM
Langdell Hall South, Harvard Law School
Free admission; public welcome. Refreshments will be served.
About the film:
"I learned a lot, fooling people and deceiving people, and it stood me in good stead the rest of my life." – Jack Masey, Ghost Army veteran
The Ghost Army tells the story of a top-secret U.S. Army unit in World War II that used inflatable tanks, sound effects, and dazzling showmanship to deceive the Germans across the battlefields of Europe. They brought creativity and illusion to the field of conflict to manipulate enemy perceptions and give an extra edge to American forces. Many of the soldiers carrying out this unique mission were artists, some of whom went on to become famous, including fashion designer Bill Blass and painter Ellsworth Kelly.
The film premiered on PBS in 2013, and has since been broadcast in more than a dozen countries. It was recently honored with a prestigious CINE Golden Eagle Award, and earned awards at multiple film festivals.
About the Filmmaker:
Rick Beyer is an award winning documentary filmmaker, a best-selling author, and a lifelong history enthusiast.
He has made documentaries for PBS, The History Channel, A&E, National Geographic, the Smithsonian and others. His most recent film, The Ghost Army, is a WWII story of war, deception and art that premiered on PBS in 2013.
Rick is also the author of the popular Greatest Stories Never Told series of history books, published by Harper Collins. The Chicago Tribune described the series as "an old fashioned sweetshop full of tasty morsels." He has co-authored a new book about the Ghost Army being published next spring by Princeton Architectural Press.
A former radio reporter and TV news producer, Rick has written for The History Channel Magazine, Politico and numerous other publications. He has shared his unique take on history in interviews on CBS, MSNBC, CNN, The Discovery Channel, History, NPR, Fox News, and with audiences around the country.
He is a graduate of Dartmouth College, and lives in Lexington MA.