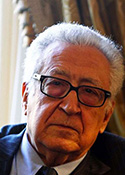 Lakhdar Brahimi is a former United Nations diplomat whose peacemaking efforts spanned more than four decades. After fighting for Algerian independence, he was appointed the country's foreign minister. He also served as UN special representative in Afghanistan and UN special envoy to Iraq. In 2007, he became a founding member of The Elders, a group of world leaders committed to forging global peace. He served as a distinguished senior fellow at the Centre for the Study of Global Governance at the London School of Economics and Political Science. Brahimi is a governing board member of the Stockholm International Peace Research Institute.
Lakhdar Brahimi's most notable accomplishments include mediating the Taif Accords, which helped end the Lebanese civil war, and leading special UN troubleshooting missions to Afghanistan, Haiti, Liberia, Nigeria, Yemen, South Africa, and Zaire (now the Democratic Republic of Congo). In addition, he oversaw the production of the 2000 Report of the Panel on United Nations Peace Operations, commonly called the Brahimi Report, which assessed the efficiency and effectiveness of UN peacekeeping missions.
The Great Negotiator Award was presented to Ambassador Lakhdar Brahimi, then serving as the UN secretary-general's special envoy to Afghanistan, in 2002. The award recognized his expertise in peacekeeping and his postconflict reconstruction efforts in the Middle East, including his key role in facilitating the Bonn Conference, which established an interim Afghan government following the defeat of the Taliban.