alternate dispute resolution
Alternative dispute resolution (ADR) (also known as external dispute resolution in some countries, such as Australia[1]) includes dispute resolution processes and techniques that act as a means for disagreeing parties to come to an agreement short of litigation. It is a collective term for the ways that parties can settle disputes, with (or without) the help of a third party.
The following items are tagged alternate dispute resolution:
No directly tagged items found.
Summer Programs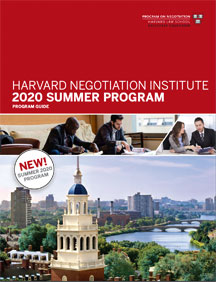 Contact us: Call 1-800-391-8629 (outside the US: +1-301-528-2676) between 9 a.m. and 5 p.m. ET any business day or email hni@law.harvard.edu
Teaching Negotiation Resource Center
Preparing for Negotiation
Understanding how to arrange the meeting space is a key aspect of preparing for negotiation. In this video, Professor Guhan Subramanian discusses a real world example of how seating arrangements can influence a negotiator's success. This discussion was held at the 3 day executive education workshop for senior executives at the Program on Negotiation at Harvard Law School.
Guhan Subramanian is the Professor of Law and Business at the Harvard Law School and Professor of Business Law at the Harvard Business School.