Negotiation Master Class November 2023 Program Guide
Claim your free copy from the Program on Negotiation at Harvard Law School.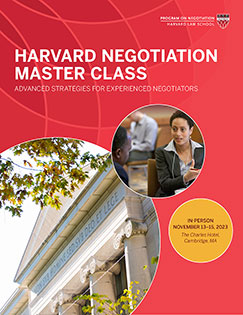 Over the years thousands of professionals have participated in negotiation programs at the Program on Negotiation (PON) at Harvard Law School. And after a few months or years of putting their negotiation skills and techniques to work, participants inevitably ask us, what's next?
What can you expect from the Harvard Negotiation Master Class?
If you are selected to participate, you'll take part in small learning groups and dynamic exercises with two-way feedback and take part in intensive simulations. And more than that, you'll have the rare opportunity to step away from your day-to-day responsibilities to …
Identify and eliminate your weaknesses
Learn how to leverage your skills in new ways
Become expert at resolving and defusing conflict anywhere
Develop skills necessary for C-suite and upper management
Master new strategies, developed by your world-renowned instructors, that most negotiators have never heard of
Renowned academics and dealmakers are your instructors
The Harvard Negotiation Master Class is taught by a lineup of distinguished professors, leading researchers, and renowned authors who have helped develop the negotiation strategies used by many of the world's most successful leaders. Our faculty members have negotiated peace treaties, brokered multi-billion dollar deals, and hammered out high-stakes agreements between world leaders. Together they have developed the first-of-its-kind program aimed at developing world-class negotiators.
Sheila Heen is the Thaddeus R. Beal Professor of Practice at Harvard Law School, and serves as a Deputy Director of the Harvard Negotiation Project, where she has been developing negotiation theory and practice since 1995. She specializes in particularly difficult negotiations – where emotions run high, and relationships are strained. She is a co-author of two New York Times bestsellers, Difficult Conversations: How to Discuss What Matters Most and Thanks for the Feedback: The Science and Art of Receiving Feedback Well (Even When It's Off-Base, Unfair, Poorly Delivered, and Frankly, You're Not in the Mood).
Brian S. Mandell is the Mohammad Kamal Senior Lecturer in Negotiation and Public Policy at the Harvard Kennedy School, a faculty associate at the Center for Public Leadership, and Director of the Harvard Kennedy School Negotiation Project. He is a preeminent teacher and curriculum designer at the Harvard Kennedy School, where he leads an innovative, intensive annual workshop course on advanced multiparty negotiation and conflict resolution.
Robert Wilkerson is a negotiation and leadership specialist. Wilkinson is on the faculty at Harvard Kennedy School, where he teaches graduate courses on leadership in complex environments and negotiation theory and practice. Wilkinson has won several Dean's Teaching Awards at Harvard, and also served as a special advisor on negotiation at the Massachusetts Institute of Technology. Previously, he was on the faculty at Tufts University's Fletcher School of Law and Diplomacy for eight years.
Alison Wood Brooks is a scientist, teacher, entrepreneur, musician, and mother of three small-but-relentless conversationalists, Brooks is the O'Brien Associate Professor of Business Administration at Harvard Business School. An award-winning teacher, she was named an American Psychological Society Rising Star in 2017, serves as a member of the Harvard Behavioral Insights Group, and Faculty Recruiting Chair of the Negotiation, Organization, and Markets Unit. Her research on the science of conversation has been published in many academic journals, media outlets, and podcasts. She presents her research at industry and academic conferences around the world. Her MBA course has been adapted at other business schools and turned into an intensive program for executive education at HBS. Her first book, TALK: The Science of Conversation and the Art of Being Ourselves will launch January 2025.
Alonzo Emery is a lawyer, mediator, facilitator, and educator who specializes in navigating challenging conversations and complex negotiations. He works with leaders across industries to develop effective conflict management strategies and engage in meaningful cross-cultural dialogue. In this capacity, he has led projects and workshops for Salesforce, Hewlett Packard, HSBC, the U.S. Department of Justice Community Relations Service, the National Institutes of Health, the Asian Development Bank, the Natural Resources Defense Council, and JSW Law School in the Kingdom of Bhutan, among many others.
The Harvard Negotiation Master Class will help you become the person who resolves conflicts every day, communicates with difficult clients or partners, smooths and salvages relationships both inside and outside the company, and serves as a knowledgeable and trustworthy leader. You will emerge from this a highly skilled and confident negotiator who can drive negotiations, no matter how complex, and be the one person at the table who truly understands the game and how to play.
This is a limited capacity course. Download the brochure today to find out how you can take your game and career to a new level.