Negotiation Master Class Fall 2019 Program Guide
Claim your free copy from the Program on Negotiation at Harvard Law School.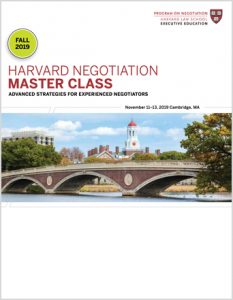 Over the years thousands of professionals have participated in negotiation programs at the Program on Negotiation (PON) at Harvard Law School. And after a few months or years of putting their negotiation skills and techniques to work, participants inevitably ask us, what's next?
What can you expect from the Harvard Negotiation Master Class negotiation training?
If you are selected to participate, you'll take part in small learning groups and dynamic exercises with two-way feedback. You'll work closely with faculty members to develop a strategy that addresses your personal negotiation challenges, and take part in intensive simulations. And more than that, you'll have the rare opportunity to step away from your day-to-day responsibilities to …
Identify and eliminate your weaknesses
Learn how to leverage your skills in new ways
Become expert at resolving and defusing conflict anywhere
Develop skills necessary for C-suite and upper management
Master new strategies, developed by your world-renowned instructors, that most negotiators have never heard of
Renowned academics and dealmakers are your instructors
The Harvard Negotiation Master Class is taught by a lineup of distinguished professors, leading researchers, and renowned authors who have helped develop the negotiation strategies used by many of the world's most successful leaders. Our faculty members have negotiated peace treaties, brokered multi-billion dollar deals, and hammered out high-stakes agreements between world leaders. Together they have developed the first-of-its-kind program aimed at developing world-class negotiators.
Gabriella Blum is a member of the Program on Negotiation Executive Committee and faculty director of the Program on International Law and Armed Conflict. She is widely published in the fields of public international law and the law and morality of war, and is a Carnegie Fellow and recipient of the Roy C. Palmer Civil Liberties Prize.
Francesca Gino is the Tandon Family Professor of Business Administration in the Negotiation, Organizations & Markets Unit at Harvard Business School, where she focuses on judgment and decision-making, negotiation, ethics, motivation, and productivity. Professor Gino is also affiliated with the Mind, Brain, Behavior Initiative at Harvard and the Behavioral Insight Group at Harvard Kennedy School.
Brian Mandell is a senior lecturer at Harvard Kennedy School, where he serves as the director of the school's Negotiation Project and the chair of the Wexner-Israel Fellowship Program. He is a multiple recipient of the school's Most Influential Course Award, Manuel Carballo Excellence in Teaching Award,
Lawrence E. Susskind, Ford Foundation Professor of Urban and Environmental Planning at MIT and Vice-Chair of Pedagogy for Harvard's Program on Negotiation. Professor Susskind founded the Consensus Building Institute in 1993 and has been delivering tailored learning and organizational development solutions on a worldwide basis ever since. In PON's executive education programs, he has delivered specialized negotiation training to more than 40,000 executives from around the world.
The Harvard Negotiation Master Class will help you become the person who resolves conflicts every day, communicates with difficult clients or partners, smooths and salvages relationships both inside and outside the company, and serves as a knowledgeable and trustworthy leader. You will emerge from this a highly skilled and confident negotiator who can drive negotiations, no matter how complex, and be the one person at the table who truly understands the game and how to play.
This is a limited capacity course. Download the brochure today to find out how you can take your game and career to a new level.