"Understanding public protests in Egypt and Iran: What is similar, what is different"
"Understanding public protests in Egypt and Iran: What is similar, what is different"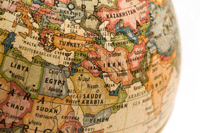 with
Hoochang Chehabi
and
Nazila Fathi
Date: February 22, 2011

Time: 4:00-6:00 PM

Where: Knafel Building, 1737 Cambridge Street,
Bowie Vernon Room (Room N-262), Cambridge MA
Contact Chair: Donna Hicks (dhicks@wcfia.harvard.edu).
Speaker Bios
Houchang Chehabi is Professor of International Relations and History at Boston University. He specializes in Middle Eastern Politics and Cultural History, Shiism, International Law. Professor Chehabi has taught at Harvard, Oxford, and UCLA, and has held Alexander von Humboldt and Woodrow Wilson fellowships. He has published two books, Iranian Politics and Religious Modernism: The Liberation Movement of Iran under the Shah and Khomeini (1990) and Distant Relations: Iran and Lebanon in the Last 500 Years (2006). He has also co-edited Politics, Society, and Democracy: Comparative Studies (1995) and Sultanistic Regimes (1998). Professor Chehabi has written numerous articles, book reviews, and translations.
Nazila Fathi began her work with western media, including Time Magazine and the New York Times, in 1992. She was based in Tehran as a correspondent for the New York Times from 2001 until July 2009, when she was forced to leave the country because of direct threats against her. She covered Afghanistan in 2001 after the fall of the Taliban and Iraq in 2003. She continued to cover Iran from Toronto until the summer of 2010 and is currently a Nieman fellow at Harvard University.

About the Herbert C. Kelman Seminar Series
The 2010-2011 Herbert C. Kelman Seminar on International Conflict Analysis and Resolution series is sponsored by the Program on Negotiation, the Nieman Foundation for Journalism, the Joan Shorenstein Center on the Press, Politics, and Public Policy, The Weatherhead Center for International Affairs, and Boston area members of the Alliance for Peacebuilding. The theme for this year's Kelman Seminar is "Negotiation, Conflict and the News Media".