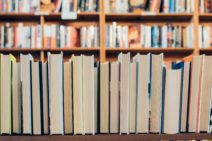 To help you prepare for the new semester, the Teaching Negotiation Resource Center (TNRC) is offering a selection of negotiation books at 50% off. Check out these great titles from the TNRC:
Negotiation Theory and Practice is a collection of edited articles which reflect the increasing interest in the field of negotiation and serves as a useful source book on critical issues in contemporary negotiation scholarship and practice. This collection of scholarly articles is normally offered for $25, but right now you can get it for only $12.50.
Order your copy of Negotiation Theory and Practice today!
Public Dispute Mediators profiles 15 of North America's most experienced public dispute mediators. The practitioners depicted originally worked in many different fields, including nursing, city planning, political science, labor relations, sociology, history, mathematics, environmental studies, and law, but they all have become skilled mediators through a combination of training, apprenticeship, and practice. While the career paths that led them to the same place are quite varied, they share three important values: an interest in the world of public policy, a desire to see people treated fairly, and a commitment to serve their community and the world at large. This book is normally offered for $8, but right now you get it for only $4.
Order your copy of Public Dispute Mediators today!  
In the Interest of Children provides a compelling introduction to the workings of the legal system and to five crucial areas of contemporary policy concern relating to children: foster care, teenage pregnancy and abortion, school discipline, institutions for the mentally retarded, and the welfare system. By focusing on only five cases, the field research of the author and his nationally-known contributors exposes the often surprising human stories that lie beneath the judicial opinions. The book explores the dilemmas necessarily involved in formulating policies for the benefit of children, and critically analyzes the strengths and weaknesses of litigation as a means of achieving reform. This book is normally offered for $20, but right now you can get it for only $10.
Order your copy of In the Interest of Children today!
Take your training to the next level with the TNRC
The Teaching Negotiation Resource Center (TNRC) offers a wide range of effective teaching materials, including
TNRC negotiation exercises and teaching materials are designed for educational purposes. They are used in college classroom settings or corporate training settings; used by mediators and facilitators seeking to introduce their clients to a process or issue; and used by individuals who want to enhance their negotiation skills and knowledge.
Negotiation exercises and role-play simulations introduce participants to new negotiation and dispute resolution tools, techniques and strategies. Our videos, books, case studies, and periodicals are also a helpful way of introducing students to key concepts while addressing the theory and practice of negotiation and conflict management.
Which negotiation exercises have helped you? Let us know in the comments.
Check out all that the TNRC has in store >> 
Related Posts