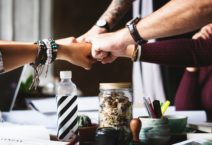 Nonprofits, foundations, and community groups often work to help people in underserved communities, where they confront complex issues and resource shortages. For people who work in this sector, having a large toolkit of negotiation skills can make a significant difference in the services their organizations can provide to communities in need. The Teaching Negotiation Resource Center (TNRC) has a variety of resources designed to help teach negotiation skills for those in nonprofits.
The Philanthropic Management Package is a collection of four role play simulations and a working paper, with teaching notes, focusing on the negotiation issues facing managers of nonprofits, foundations, community groups, and other philanthropic organizations. The simulations included in this package are:
This three hour, four-party, scoreable negotiation is among a federal building manager, the building contracting officer, a local employment agency, and a nonprofit organization regarding the renewal of a janitorial services contract in the context of past service problems.
Download a FREE Teacher's Package today.
This three hour, five-party, non-scoreable, multi-issue negotiation is among foundation, community, and medical board members of a new health foundation to set community health funding priorities and strategies for community engagement.
Download a FREE Teacher's Package today. 
This three hour, six-person, non-scoreable, facilitated integrative negotiation is among advocates for homeless people, community and business leaders, and a foundation regarding the allocation of a grant to alleviate local homelessness problems.
Download a FREE Teacher's Package today. 
This three hour, twelve-person, two-round, non-scoreable negotiation is between six foundation board members and six school board and community leaders over efforts to address racial disparities in academic performance, where internal negotiations precede external negotiation.
Download a FREE Teacher's Package today.
Each of these simulations is available separately, although they were originally designed for the Council on Foundations by Larry Susskind and Janet Martinez, as part of the Philanthropic Management Package. These simulations offer opportunities to learn about and apply a mutual gains approach to negotiation in the context of philanthropic management.
Take your training to the next level with the TNRC
The Teaching Negotiation Resource Center (TNRC) offers a wide range of effective teaching materials, including
TNRC negotiation exercises and teaching materials are designed for educational purposes. They are used in college classroom settings or corporate training settings; used by mediators and facilitators seeking to introduce their clients to a process or issue; and used by individuals who want to enhance their negotiation skills and knowledge.
Negotiation exercises and role-play simulations introduce participants to new negotiation and dispute resolution tools, techniques and strategies. Our videos, books, case studies, and periodicals are also a helpful way of introducing students to key concepts while addressing the theory and practice of negotiation and conflict management.
Which negotiation exercises have helped you? Let us know in the comments.
Check out all that the TNRC has in store >> 
Related Posts