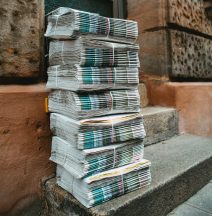 How do you negotiate an internal management conflict in the face of looming crisis and a deep loss of trust? In Discord at the Daily Herald, a new simulation from the Teaching Negotiation Resource Center (TNRC), the co-owners of the Daily Herald must grapple with these issues or face the complete dissolution of their partnership and potentially the entire newspaper.
This two-party, three-hour, multi-issue negotiation is between the co-owners of the Daily Herald newspaper over how to resolve ongoing management issues and implement structural reforms in the face of high-pressure circumstances. J. Blanton and K. Logan are the co-owners of the Daily Herald; J. Blanton previously worked in the freight-shipping industry, while K. Logan worked in the Logan family media business. The co-owners have become embroiled in conflict over the direction of the paper's future. As a result of this conflict, K. Logan has terminated the paper's long-time editor in chief without consulting J. Blanton. K. Logan is seeking an overall shift to a digital-only publishing model in order to expand readership and return to profitability. J. Blanton wants to maintain a more print-based, traditional newspaper model to serve the community. Underlying this management discord are strained relationship dynamics been the owners and plummeting morale among the staff. J. Blanton feels that K. Logan does not take others' input seriously, and K. Logan feels that J. Blanton is resistant to change and evolution. J. Blanton and K. Logan have also just been informed of a planned staff walkout in protest of management's erratic leadership and they must now break their previous impasse on these issues to try to avert a crisis. Major lessons of this negotiation include:
Importance of agenda setting in multi-issue negotiations
Breaking an impasse in a negotiation
The perils and pitfalls of internal company conflict
Negotiating with very weak alternatives (BATNA) and under pressure of escalating consequences
Having difficult conversations in relationships with low trust
Download a free preview copy of the Discord at the Daily Herald Teacher's Package to learn more about this simulation.
This simulation pairs well with Getting Past No: Negotiating in Difficult Situations by William Ury, and with Good For You, Great For Me: Finding the Trading Zone and Winning at Win-Win Negotiation by Lawrence Susskind. In Getting Past No, Dr. Ury offers a five-step system to dismantle walls, disarm tough bargainers, deflect attacks, and dodge dirty tricks. Getting Past No offers specific techniques and proven strategies designed to identify the problem, develop practical proposals, and invent creative options that satisfy both sides' needs. In Good For You, Great For Me, Professor Susskind shows how to win at win-win negotiating and provides operational advice to satisfy the interests of your back table—the people to whom you report. He also shows how to deal with irrational people, whose vocabulary seems limited to "no." He explains how to find trades that create much more value than either you or your opponent thought possible.
___________________
Take your training to the next level with the TNRC
The Teaching Negotiation Resource Center offers a wide range of effective teaching materials, including
TNRC negotiation exercises and teaching materials are designed for educational purposes. They are used in college classroom settings or corporate training settings; used by mediators and facilitators seeking to introduce their clients to a process or issue; and used by individuals who want to enhance their negotiation skills and knowledge.
Negotiation exercises and role-play simulations introduce participants to new negotiation and dispute resolution tools, techniques and strategies. Our videos, books, case studies, and periodicals are also a helpful way of introducing students to key concepts while addressing the theory and practice of negotiation and conflict management.
Which negotiation exercises have helped you? Let us know in the comments.
Check out all that the TNRC has in store >>
Related Posts