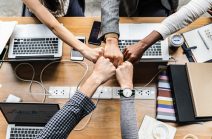 Check Out Our Bestselling Two Party and Multiparty Negotiation Simulations
More than just the increased number of parties at the table, there are key differences in how negotiators manage two party versus multiparty negotiations. Power disparities can be exacerbated in two party negotiations, however the opportunities for option generation can also be increased. The formation of coalitions in multiparty negotiations can derail even the best plans. To be an effective negotiator, students must learn to manage both two party and multiparty negotiations.
The Teaching Negotiation Resource Center (TNRC) offers a wide range of both two party and multiparty role play simulations. Check out our top five bestselling lists below.
Top Five Two Party Simulations:
Top Five Multiparty Simulations:
Take your training to the next level with the TNRC
The Teaching Negotiation Resource Center offers a wide range of effective teaching materials, including
TNRC negotiation exercises and teaching materials are designed for educational purposes. They are used in college classroom settings or corporate training settings; used by mediators and facilitators seeking to introduce their clients to a process or issue; and used by individuals who want to enhance their negotiation skills and knowledge.
Negotiation exercises and role-play simulations introduce participants to new negotiation and dispute resolution tools, techniques and strategies. Our videos, books, case studies, and periodicals are also a helpful way of introducing students to key concepts while addressing the theory and practice of negotiation and conflict management.
Which negotiation exercises have helped you? Let us know in the comments.
Check out all that the TNRC has in store >>
Related Posts