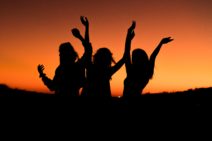 All of us negotiate both simple and complex issues every day. We start negotiating at a young age, from children getting dessert after eating vegetables to pushing for an extra hour before curfew. These early negotiation experiences can have a significant impact on negotiations later in life, such as a first job offer or buying a car. Teaching negotiation to high school students as a life skill can help prepare them to negotiate with confidence as they enter the professional world. The Teaching Negotiation Resource Center (TNRC) focuses on developing negotiation materials designed to teach interest-based negotiation to people of all ages and experience levels. Working It Out is a handbook on negotiation for high school students developed by  Getting to YES co-author Roger Fisher and Difficult Conversations co-author Douglas Stone.
Working It Out is a 27-page handbook designed to introduce high school students to problem-solving, interest-based negotiation. Written Roger Fisher and Douglas Stone, Working It Out presents core concepts from both books in a clear, simple format with plenty of age-appropriate examples from family, school, workplace and social contexts. Working It Out explains the value of:
understanding how different people may see the same situation differently;
actively listening, and helping the other person to listen;
becoming aware of and dealing with emotions in negotiation;
focusing on underlying interests rather than on demands or positions;
inventing new options for solving problems;
reaching agreements based on what's fair;
knowing when to walk away from a negotiation; and
preparing to negotiate;
This clear and concise handbook provides a comprehensive introduction to negotiation designed to teach high school students problem solving and how to address underlying interests in negotiation. Download a free teacher's review copy today!
Take your training to the next level with the TNRC
The Teaching Negotiation Resource Center (TNRC) offers a wide range of effective teaching materials, including
TNRC negotiation exercises and teaching materials are designed for educational purposes. They are used in college classroom settings or corporate training settings; used by mediators and facilitators seeking to introduce their clients to a process or issue; and used by individuals who want to enhance their negotiation skills and knowledge.
Negotiation exercises and role-play simulations introduce participants to new negotiation and dispute resolution tools, techniques and strategies. Our videos, books, case studies, and periodicals are also a helpful way of introducing students to key concepts while addressing the theory and practice of negotiation and conflict management.
Check out all that the TNRC has in store >> 
Related Posts