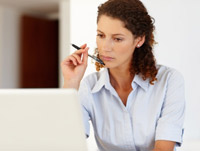 Adapted from "What Happens When Women Don't Ask," first published in the Negotiation newsletter, June 2008.
Some negotiation research has found that men generally initiate negotiations to advance their own interests much more often than women do. Yet researchers also have identified certain contexts in which women routinely negotiate and achieve outcomes that match or exceed those of men:
When issues matter to them. In a survey of investment-bank employees, Iris Bohnet and Fiona Greig of Harvard's Kennedy School of Government found that women professionals were ready and willing to negotiate career issues of particular importance to them, most notably their work-related travel and daily schedules. This could be in part because women feel it is socially acceptable for them to negotiate issues that directly affect their families.
When they negotiate on behalf of others. Although some studies have found that men excel in competitive negotiations, women negotiators in one study achieved better outcomes than men when bargaining on behalf of someone else. In an experiment involving graduating MBAs, researchers Hannah Riley Bowles, Linda Babcock, and Kathleen McGinn found that acting as someone's agent seemed to motivate female participants to work extra hard, perhaps because they expected that assertiveness would be better tolerated than if they were lobbying on their own behalf.
When they have good information. In highly ambiguous situations, gender stereotypes are more likely to emerge, putting women at a disadvantage. In their study, Bowles, Babcock, and McGinn found that men negotiated higher salaries than women in fields where starting salaries were ambiguous, including telecommunications, real estate, health services, and media. Yet women performed just as well as men when negotiating for jobs in industries where compensation was fairly clear, including investment banking, consulting, and high technology.
Related Posts