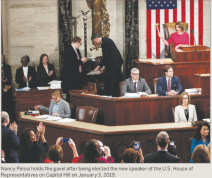 On February 14, the White House announced that President Donald Trump would sign a federal budget deal that included only a fraction of the funds he had demanded for a border wall with Mexico and attempt to secure the remaining wall funding by declaring a national emergency.
For many congressional Democrats, Trump's capitulation on the budget— following the longest government shutdown in U.S. history—validated their decision to elect Nancy Pelosi speaker of the House of Representatives on January 3. Pelosi had led Democratic strategy and held firm in negotiations with the White House.
But Pelosi's re-ascendancy to the role she held from 2007 to 2011 was never a foregone conclusion. Facing dissent within the ranks, the longtime leader cannily won over opponents with carrots, concessions, and a carefully mounted campaign, writes CNN's Ashley Killough.
Speaking up
On November 7, 2018, less than 24 hours after Pelosi gave a victory speech celebrating her party winning back the House, a dozen Democratic incumbents held a conference call to discuss how to block her from being elected speaker, according to CNN. They believed Pelosi, leader of the House Democratic caucus since 2002, had been in power too long and was preventing newer voices and perspectives from being heard. In the face of Republican anti-Pelosi attack ads, about 30 Democrats had disavowed her publicly during their campaigns.
The rebel group was upbeat about their odds. Assuming that all 197 Republicans voted against Pelosi, they would need to pick off only 18 out of 235 Democratic votes to keep her from meeting the 218-vote House majority. Sixteen Democrats said publicly that they would vote against Pelosi, and others privately said they would as well, according to the group.
Voting for the enemy?
In early December 2018, during the heat of Nancy Pelosi's run for House speaker, the Associated Press (AP) published an article speculating about whether any congressional Republicans might consider voting for the liberal Democrat.
Why would they, given that Pelosi is widely reviled by conservatives? Precisely for that reason. For years, the GOP has targeted Democratic candidates by linking them to Pelosi, whom they portray as a dangerous San Francisco radical, political consultants told the AP. In line with the old adage "Better the devil you know than the devil you don't," Republicans might have feared Democrats would replace Pelosi with someone who would be less of a lightning rod in the next presidential and congressional campaigns. That might be why President Trump offered to help Pelosi win Republican votes in her run for speaker.
Moderate Republicans might also have tried to trade a vote for Pelosi for input in the 116th Congress's agenda. New York Republican congressman Tom Reed, a member of the House's bipartisan Problem Solvers Caucus, told the AP that he'd theoretically consider helping Pelosi in exchange for such control—but then added that just talking about supporting her had caused him "a tremendous amount of heartburn."
Ultimately, no Republicans voted for Pelosi, likely convinced that doing so would be "an absolute career killer," in the words of GOP consultant Jon McHenry. It was just as well for Pelosi, who, perhaps fearing a similar stain of association, recoiled when the AP asked her about the possibility of winning Republican votes: "Oh, please, no, never, never, never."
Looking beyond the hyperpolarized world of Congress, showing support for rivals and competitors need not mean sacrificing your principles and goals. In fact, it can be an effective means of building bridges and getting more of what you want.
An uncontested contest?
In media interviews, Pelosi appeared just as optimistic that she would prevail for at least two more years. Moreover, the 78-year-old told the Los Angeles Times that she refused to make herself a "lame duck" by specifying when she would step aside. Accusing the opposition of sexism and ageism, Pelosi's backers flooded the incoming House freshmen class with texts and phone calls, according to CNN. Donors and politicians allied with Pelosi contacted her critics to ask them to back down. And a pro-Pelosi social media campaign inaccurately portrayed the opposition as #FiveWhiteGuys when, in fact, several women and minorities were among them.
Meanwhile, the opposition was seriously hampered by the fact that no one seemed to want to run against Pelosi. Ohio Democrat Marcia Fudge considered the idea, but after Pelosi asked her to chair a subcommittee on voting rights—a pet cause of Fudge's—she dropped it. Pelosi won the support of other opponents and would-be competitors with similar promises on policy and power.
In late November, the Democratic caucus held an election to nominate their candidate for speaker. Thirty-two members voted against Pelosi, meaning she'd have to win over another 15 colleagues. Pelosi began negotiating privately with Colorado congressman Ed Perlmutter, a member of the rebel group, to find an enticement. After about a dozen conversations, Pelosi told him she was open to supporting term limits for House senior leadership.
Playing to her base
On December 11, Pelosi and Senate minority leader Chuck Schumer had a freewheeling meeting in the Oval Office with Trump regarding his border wall demand. With cameras rolling, Pelosi challenged Trump's characterization of her bargaining power as weak and helped Schumer bait the president into taking ownership of a possible government shutdown. Regaling colleagues afterwards with a play-by-play of the sit-down, Pelosi compared the president to a skunk and questioned his manhood—details quickly leaked to the press.
Though not a model of collaborative dealmaking, Pelosi's performance, which went viral, showed Democrats that she could go toe-to-toe with a president whose most frequently used negotiating tools include threats, insults, and the element of surprise.
An endgame emerges
In a sit-down with Perlmutter and two other Democratic rebels the next day, Pelosi agreed to back a three-term limit for the top three senior House leadership positions, with the option of a fourth two-year term if approved by two-thirds of the Democratic caucus rather than a simple majority. The deal would be retroactive, leaving Pelosi no more than two more terms as speaker.
The concession won over more of Pelosi's detractors. When the 116th Congress went into session on January 3, she was elected speaker with 220 votes, having won over all but 15 members of her party.
When winning is everything
Follow Pelosi's playbook for mounting an effective negotiation campaign:
Don't write off opponents and rivals. Even the fiercest competitions can— and often should—become negotiations.
Rally the troops. Ask influential supporters to lobby your critics and supporters on your behalf.
Pick apart coalitions. Negotiate one by one with members of the opposition to identify their personal interests—and see if you can meet them in exchange for their backing.
Negotiate short-term and longer-term issues. Consider trading off long- term issues, such as particular policies, to win over short-term support.
Don't just oppose. You won't get much leverage if you don't offer an appealing alternative to the front-runner.
Find a diplomat. "In any war, there are soldiers and diplomats," one Democratic aide told the Associated Press. Pelosi found a diplomat among her opponents in Perlmutter and stuck with him.
Show off your skills. In the midst of a heated battle, don't miss out on valuable opportunities to display your strengths.
Avoid a protracted contest. Both Pelosi and her opponents became willing to make concessions to ensure they entered the House as a unified majority.
Related Posts