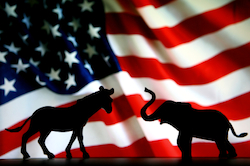 Visual Cues Can Distort Your Decision-Making Abilities
Consider the first-ever televised debates between the U.S. presidential candidates in 1960.
Studies of the audience after the first of four debates revealed that in the eyes of television viewers, charismatic and confident John F. Kennedy was clearly victorious over the sullen Richard Nixon, who had a five o'clock shadow and was also underweight and pallid because he had spent two weeks in the hospital because of a knee operation.
Meanwhile, radio listeners overwhelmingly chose Nixon as the winner.
It has been argued that Nixon's points were more sound, logical, and precise, suggesting that visual cues distracted the television audience from the debate's substance.
Kennedy, of course, won the election.
An analysis of a post-election survey showed that 57 percent of the voters were influenced by the debates.
Related Article: Negotiating the Distance Between You
Related Posts