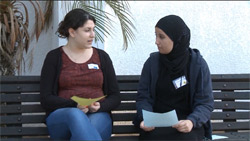 Thanks to leadership from the Middle East Negotiation Initiative (MENI) of the Program on Negotiation at Harvard Law School, a series of negotiation skills trainings was recently provided to eleventh grade students from Jewish and Arab schools in Israel.  These two-day workshops, co-sponsored by the Program on Negotiation and the Amal Network and funded by the U.S. Embassy in Tel Aviv, were held in several locations in October 2012.  Students from different schools were paired together to practice resolving disputes and negotiating outcomes that bring value to both sides. The workshops helped Arab and Jewish students envision new possibilities for using negotiation and conflict resolution skills in creative ways, while also developing friendships with the "other."
In this video, students and program leaders discuss the positive impact of the negotiation skills workshops.
To see additional videos about this program, and other PON videos, click here.
Related Posts