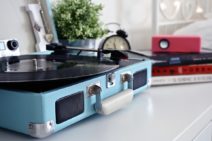 When Apple Inc. announced plans to step into the market for streaming audio back in 2015, it had no idea what was waiting for it. To do it, the company negotiated countless agreements with musicians and studios. How someone can take charge of so many complex negotiations with musicians and studio executives begs the question, what is leadership in a negotiation? The answer came, but not from Apple executives.
Instead, it was pop superstar Taylor Swift's leadership and negotiating tactics that convinced the tech giant to make an unprecedented public concession in advance of the upcoming release of Apple Music.
Apple Music completes a long evolution for a company that has been at the forefront of digital music since it released the revolutionary iPod in 2001. The subscription service Apple Music app synchs streaming music and radio to a host of programs and devices marketed by the $750 billion Palo Alto company. Buried in the fine print, however, Apple decided not to pay musicians for music streamed during the first three months after the debut.
Swift took the company to task in an online letter entitled, "To Apple, Love Taylor." Leveraging her unrivaled popularity—59.3 million Twitter followers and over 40 million album sales—Swift called out Apple for taking money away from upstart musicians and hardworking producers. Calling Apple, "one of my best partners in selling music," Swift expressed disbelief at the company's "shocking" policy and explained that in return, she would withhold her multi-platinum album "1989" from Apple Music.
In less than 24 hours, Apple Vice President Eddie Cue reversed the company's policy, taking to Twitter to write, "We hear you @taylorswift13 and indie artists. Love, Apple."
Swift is a longtime advocate for music industry professionals, and her letter defines leadership, revealing a firm understanding of negotiating tactics. Just as millions of music lovers lip sync her songs every day, anyone asking, "what is leadership in a negotiation," can find much to mimic from Swift's successful negotiation.
Here are just a handful of takeaways:
Negotiations Don't Always Take Place at a Table: One or more parties to a negotiation will often fail to distinguish it from a simple disagreement. As a result, people frequently miss the opportunity to get a productive outcome from a dispute, and just as often end up name-calling instead.
If you want to answer the question, what is leadership in negotiation, it is important to first remember that negotiations are more than just two people in suits haggling at a long table beneath a dangling light bulb.
Effective leaders recognize when they are in a negotiation and convey it constructively to the other side. Swift's letter, which reasonably outlines her disagreement and discusses options for resolving it, shows one way to inform the other side that you want to negotiate for something better while still conveying that you do not accept the status quo.
Leave Room for Options: A quick way to ensure that a negotiation will end badly is to make take-it-or-leave-it demands. In the array of explosive options available to Swift, she could have withheld her entire catalogue, organized a boycott with other musicians, of refused to deal with Apple at all. Instead, she addressed her letter directly to Apple, explained her position, and left them room to do the right thing.
Referencing her generally positive relationship with the company in the past, Swift allowed Apple to concede while saving face. At the same time, by publicly posting the letter and threatening to withhold her most recent album, she showed a willingness to take a stand.
Leaving space for options is a powerful negotiating tactic. It can create an opening for creative agreement and productive disagreement alike, increasing the chances that a bargain will be struck.
Master the Issues: Knowing the issues facing both sides can define leadership in a challenging negotiation. So can careful use of that knowledge. Swift's letter displayed her expert understanding of the financial issues facing artists today, but she was quick to use her knowledge in a way that would help sharpen a persuasive argument that Apple executives might hear.
By the end of the letter, Swift was able to comfortably close the distance between her position and theirs instead of sounding confrontational. "We don't ask you for free iPhones," she wrote, "Please don't ask us to provide you with our music for no compensation."
Know what it Means to Walk Away: In any negotiation, it is important to know what it would take for you to walk away without a deal in hand. This is what negotiation experts call the Best Alternative to a Negotiated Agreement (BATNA). While it is often good to keep your BATNA to yourself, telling the other side what your BATNA is can sometimes be a valuable way to take leadership of the negotiation and re-frame the debate.
Swift's BATNA was to keep doing what she does—touring, playing music, and recording—without an agreement with Apple.
In her letter, she said so in no uncertain terms, writing, "This is not about me. Thankfully I am on my fifth album and can support myself, my band, crew, and entire management team by playing live shows." In mentioning her BATNA, Swift instead focused the discussion on less established musicians and producers, which weakened Apple's ability to do nothing without garnering bad publicity.
What did you take away from Taylor Swift's leadership style? 
Originally published in 2015.
Related Posts