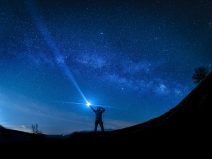 We often think of responsible leadership in terms of how decision makers help steward their organization and its employees through challenging times. But as is becoming increasingly evident during the Covid-19 pandemic, responsible leadership can also mean going above and beyond to help society at large. In a recent New York Times article, David Gelles describes how billionaire Marc Benioff, the founder and CEO of enterprise cloud-computing firm Salesforce and a noted philanthropist, did just that. The story highlights the role of leadership in negotiation, as well as qualities of responsible leadership.
Stepping up to the Challenge
On March 19, University of California, San Francisco (UCSF) chancellor Sam Hawgood phoned Benioff to ask for help. As coronavirus hospitalizations spiked, UCSF, one of the Bay Area's leading medical providers, was running dangerously low on personal protective equipment (PPE) for medical personnel.
Benioff had made major gifts to the university, including $100 million for a children's hospital, but Salesforce didn't have the supply-chain connections needed to rustle up PPE in a hurry. Still, he volunteered for the challenge. His first move was to enlist Daniel Zhang, the CEO of Chinese e-commerce giant Alibaba, whom he'd worked with on a business venture, for help. A team from Alibaba began identifying trusted suppliers. Salesforce's team, run by executive Ryan Aytay, identified UCSF's specific PPE needs, according to the Times.
Given that fraud and theft had infected the market for precious PPE, the Salesforce team committed to purchasing only from companies that "someone they knew well could personally vouch for," said Aytay. After hearing that the Chinese firm Jointown Pharmaceutical Group had a large supply of surgical masks in Los Angeles, a Salesforce team member who spoke Mandarin negotiated a deal over the phone. Benioff's office wired $300,000 for the 500,000 masks the same day. Benioff then reached out to FedEx founder Fred Smith, whose son, FedEx executive Richard Smith, arranged for the masks to be delivered to UCSF at a discounted rate.
An Ambitious Goal
That initial success motivated the Salesforce team, dubbed Maskforce, to ramp up their ambitions: They committed to acquiring a billion pieces of PPE for hospitals around the country. Along with Benioff, they reached out to connections, both offering and asking for help.
There were setbacks along the way. Most of a shipment of 2 million surgical masks flown in from China disappeared on the trip from the warehouse to the airport, "sold right off the truck," Aytay told Gelles. But the initiative was so successful overall that UCSF was able to institute a mandatory mask policy. Once UCSF was fully stocked, the Salesforce team began sending PPE to other coronavirus hot spots, including Michigan and Louisiana.
Responsible Leadership
"It's my belief that businesses are the greatest platforms for change and can have an enormous impact on improving the state of the world," Benioff wrote in a 2016 Huffington Post article, describing his views of visionary leadership. "As business leaders, we are in positions of influence, and responsible for more than just shareholders. We are accountable for the well being of an extended community of employees, customers and partners, as well as our fellow beings on this planet we inhabit."
Effective negotiating skills are integral to Benioff's view of responsible leadership. Managers, negotiators, and others who aspire to engage in moral leadership during the pandemic and beyond can learn the following lessons from Benioff's Maskforce initiative:
Adopt a collaborative mindset. Even as the federal government was pitting states against each other in the race for PPE, Benioff viewed the task of securing masks as a collaborative one. Not everyone can pick up the phone and easily persuade corporate CEOs to dedicate money and personnel to a group humanitarian effort. But most leaders are likely to succeed when they reach out to their network and ask for help rallying around a common cause.
Choose negotiators and negotiating partners with care. The New York Times and Washington Post report that, rather than assigning seasoned government procurement experts to lead the government's quest for PPE, White House adviser Jared Kushner, President Donald Trump's son-in-law, recruited about a dozen inexperienced volunteers from the private sector to search for and negotiate deals to purchase medical supplies. According to one volunteer and numerous White House officials, the team had little success identifying and vetting suppliers. By opting to only do business with trusted sources, the Salesforce team achieved much better results.
Scale up incrementally. After Salesforce's success at procuring PPE for UCSF, Benioff broadened the initiative and set even more ambitious goals. The early successes that come from responsible leadership can provide an irresistible motivation to do more and more good in the world. Once you've built capabilities and confidence, you may see no limit to what can be achieved through visionary leadership.
What other qualities of responsible leadership have you observed in your organization and elsewhere?
Related Posts