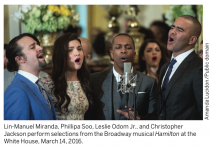 Planning is key in negotiation. That doesn't mean memorizing a predetermined script, but being ready to roll with the punches. The negotiators who worked to transform the hit Broadway musical Hamilton into a feature film learned that lesson at a couple of different points in the process. Their resourcefulness—and ability to stand by their principles—should inspire anyone negotiating during these uncertain times.
If you had to choose…
In June 2016, Hamilton's leads—creator Lin-Manuel Miranda (in the role of Alexander Hamilton), Leslie Odom Jr. (Aaron Burr), Phillipa Soo (Elizabeth Schuyler), and others—were preparing to leave the show after a history-making run. The hip-hop story of America's first treasury secretary had just won 11 Tony Awards, including Best Musical, and its productions in New York and elsewhere were selling out every night. Hoping to one day share the experience of watching the stellar cast perform with a general audience, the show's producers made plans to film the theatrical version of the show for eventual release in movie theaters.
The plan was to shoot two live shows at the Richard Rodgers Theatre, Hamilton's Broadway home, as well as close-ups without an audience, and then edit them into a seamless production. Every last detail of the so-called live capture was planned in advance, but one aspect of the project seemed to be an afterthought: cast salaries. Odom Jr. didn't receive an offer until the day before the start of shooting, he recently recalled on actor Dax Shepard's Armchair Expert podcast. What's more, the offer was less than he'd expected.
Odom Jr. asked his talent agency, Creative Arts Agency, to quickly do some research: "What does my White counterpart…Aaron Tveit make to do Grease Live! on TV?" (Tveit played the role of Danny Zuko in the January 31 television special.) After finding out, Odom Jr. recalled, "I didn't ask for one penny more, but I said, 'You must pay me exactly what that White boy got to do Grease Live! That's the bottom line."
Odom Jr. stressed to Shepard that this was not an idle bluff: "I was not kidding. I was not coming to work the next day to do the movie . . . . Sometimes they look at you and go, 'We're just not paying it,' and you have to go, 'That's OK.'"
But the idea of filming Hamilton without Odom Jr., who had just won the Best Actor Tony for his mesmerizing portrayal of Hamilton's killer, was clearly inconceivable to Miranda and the show's producers. They agreed to Odom Jr.'s price.
Taking a stand with pride
Early in Hamilton's Broadway run, Odom Jr. helmed a battle by the original cast to secure profits from the show. As recounted in our March 2019 cover story, when Hamilton was in development Off Broadway, the original cast agreed to forego royalties on possible future profits. They regretted that decision once the show's producers, led by Jeffrey Seller, began raking in $500,000 per week and launching other productions of the show. Having made valuable contributions to the show's look and feel, the cast believed they should be compensated accordingly.
Citing the profit-sharing deal reached by The Book of Mormon's original cast, 22 of the 24 original Off Broadway Hamilton cast members asked for a small stake in the show's gross box-office receipts and subsidiary-rights income. When Seller instead had lump-sum checks delivered to them for their past development work, Odom Jr. persuaded his castmates to reject the offer and stand firm. Lengthy negotiations followed, culminating in a profit-sharing agreement that Odom Jr. and 37 other Hamilton contributors could live with.
In a recent interview with the Los Angeles Times, Odom Jr. said that residual income, or "mailbox money," for small parts in syndicated shows such as CSI: Miami sustained him during his early lean years as an actor. He believes theater performers are similarly entitled to profit sharing, especially given the toll the grueling work takes on their bodies.
"We need to talk about racism and White supremacy in theater," Odom Jr. told the Times. "You want to be an ally? You make sure that Black people and people of color and women are getting paid, that they'll be able to take money home to their families. It's not about revenge; it's about equality."
Who tells your story?
Hamilton's lead producers—Seller, Sander Jacobs, and Jill Furman—shot the live-capture film for $10 million and put it in a vault. In 2018, they shopped it around Hollywood but weren't happy with the offers they received, according to the New York Times. The following year, Kail reached out to Disney CEO Robert Iger, whom he had gotten to know through other work, to let him know the film was still available.
Many of Iger's family members were huge fans of the show, and he was "extremely impressed" by the film version, he told the Times. Iger flew from California to New York and "pitched my heart out," he recalls, promising to do the film "real justice." The show's producers and creators agreed to sell the film rights to Disney for $75 million. A percentage of profits would go to the original cast and crew, as well as the nonprofit Public Theater in Brooklyn, New York, where Hamilton was developed.
In February 2020, Disney announced it would release Hamilton in theaters on October 15, 2021. But as those plans were set, the coronavirus was spreading across the globe. By March, movie theaters and live theater had gone dark across the United States, and streaming services were eager for more content to share with those quarantining at home.
Iger emailed Kail and Miranda to ask if they'd consider renegotiating their deal to allow Hamilton to premiere on Disney Plus, the company's new streaming service. The pair responded with a flat "No," the Times reports.
But as the Covid-19 crisis worsened, the team behind Hamilton reconsidered. The film could serve as a morale booster for millions of Americans stuck at home. The two sides "adjusted" their deal—likely reducing the $75 million to account for lower expected profits for Disney. In a nod to the show's era, the film was released on Independence Day weekend. By far the most-viewed content on any streaming service this year, the film raked in new subscribers to Disney Plus.
How the parties got to yes
The twists and turns in the "Hamilfilm" talks offer a few suggestions for all of us facing unpredictable negotiations:
Factor in fairness and equity concerns. Rather than focusing on trying to get the best short-term financial deal possible, construct an agreement that accounts for all parties' long-term interests. Otherwise, you are likely to face their dissatisfaction down the line.
Cite objective data. Rather than simply sharing his opinions about inequities in the theater world, Odom Jr. justified what he believed he and his castmates were worth by citing comparable deals, including those reached by an actor in Grease Live! and The Book of Mormon's cast. You can often make a compelling case by presenting such comparables.
Adapt to the times. When circumstances change, be open to the idea of revisiting and possibly revising your agreement rather than staying rooted in the past. During an economic downturn, that may mean accepting lower profits than you'd anticipated in exchange for less tangible benefits— such as the opportunity to spread joy during dark times.
Related Posts