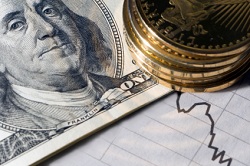 Computer giant Dell's potential $23 billion leveraged buyout could mark the beginning of a new era of sky-high-priced acquisitions, writes Matt Wirz in the Wall Street Journal.
Dell founder Michael Dell and private-equity from Silver Lake Partners are seeking a reported $15 billion in financing as they shop the company. The last jumbo-sized leveraged buyout – an acquisition with a purchase price financed through equity and debt – took place back in the pre-recession era, when Blackstone Group purchased Hilton Hotels for $26 billion in 2007.
Private-equity firms have stockpiled about $550 billion in cash, reports Wirz, yet have avoided large deals for fear that economic slumps in Europe and the United States could make the deals difficult to finance. However, the firms are starting to think about wheeling and dealing again, given a recent rise in the stock market and record low costs for the debt that backs buyouts. Banks are also recognizing the potential benefits of lending at relatively high interest rates to highly leveraged companies.
In 2012, bankers arranging a deal for Fortescue Metals Group to raise $5 billion to repay existing debt found themselves facing demand for $10 billion from investors. The deal reportedly caused many in the private-equity business to speculate about how large of a deal they could do, Leland Hart, a managing director for the investment management firm BlackRock told Wirz.
Will the Dell deal mark the return to the heady days of big returns to investors and hefty fees for financiers? Some analysts predict Dell's debt financing will be snapped up, while others are more pessimistic, given that the company has been in a slump due to slow sales in recent years.
High-priced mergers and acquisitions often fail to live up to the initial expectations of those involved. Yet due to the tendency of business negotiators and other decision makers to be overoptimistic and overconfident, it may be only a matter of time before billion-dollar LBOs are commonplace once again.
Related Posts