2022-2023 Program on Negotiation Graduate Research Fellows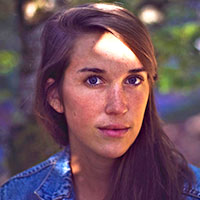 Elizabeth Good
Ph.D. Candidate, Northwestern University Department of Political Science
Elizabeth Good is a Ph.D. Candidate and SSHRC Doctoral Fellow at Northwestern University. Her dissertation uses mixed methodology to explore women's representation in peace processes. Elizabeth studies the influence of gendered power dynamics on women's involvement in peace negotiations and the inclusion of provisions for women in final agreements. Elizabeth holds an M.A. in Political Science and a B.A. in International Relations and Geography from the University of British Columbia. She has worked for various Non-Governmental and International Organizations, including the United Nations Development Programme in Kosovo as a Gender Specialist.

Alexandra McAuliff
Ph.D. Candidate, Fletcher School of Law and Diplomacy, Tufts University
Alexandra McAuliff is a doctoral candidate at the Fletcher School of Law and Diplomacy at Tufts University, where her work focuses on gender, negotiations, and peacebuilding. Her dissertation is titled The Troubles with Inclusion: Northern Ireland and Gendered Hierarchies of Peace. She is particularly interested in the limits of women's inclusion in negotiations absent attention to the power hierarchies that inform these processes. In her dissertation work, she questions the foundational assumptions of negotiations, with specific attention to the ways militarized and masculinized power shapes the people and issues deemed conflict-related. To do so, McAuliff examines the process and legacy of the Good Friday Agreement in Northern Ireland and the ways gendered, racialized, and classed violence and insecurity continue to be experienced by those at the margins, despite twenty years of a political peace. In addition to her dissertation research, McAuliff is also part of a cross-university research team working on questions related to migration and diplomacy. At Fletcher, McAuliff serves as a Teaching Fellow and runs the Non-Violent Resistance Fellowship. Prior to pursuing her doctoral degree, she worked as a dialogue facilitator with a small peacebuilding group in Northern Ireland, as well as at Seeds of Peace, a youth-focused leadership organization. McAuliff holds a Master of Arts in Law and Diplomacy from the Fletcher School, and a Bachelor of Arts from Colby College. While pursuing her master's degree, she worked with the Kroc Institute for Peace and Justice's Women PeaceMakers Program.

Katri Nousiainen
Ph.D. Candidate in Commercial Law, Hanken School of Economics
As a PON Fellow, Nousiainen is conducting empirical research on the impact of legal design and ethics in commercial contracts using the lens of law and economics. She is interested in employing technology within law, economics, and legal design. Her prospective work intends to scientifically measure the total impact of legal design, and to find, for example, metrics to assess efficiency and quality in legal products, services, and processes.
Nousiainen gives expert legal lectures on various practice areas of commercial law, legal design and law & technology. She is an invited keynote speaker at conferences and seminars across the US, Europe and LATAM. In addition to her work at the Program on Negotiation, she is also conducting her research at the University of Cambridge Law (the UK). She holds a European Master in Law and Economics (EMLE) LL.M (Erasmus University Rotterdam), a Master Universitario di primo livello (University of Bologna), a Master d'Analyse Economique du Droit et des Institutions (Université Paul Cézanne Aix-Marseille III), and a BA in Law (International University Audentes, TUT, Katholieke Universiteit Leuven).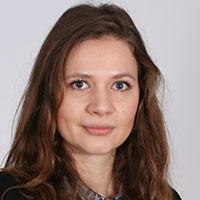 Helen Winter, Ph.D. Candidate, European University Viadrina; Term of fellowship 2021-2023
Helen Winter is a mediator and founder of the charitable organization R3SOLUTE based in Berlin. R3SOLUTE empowers refugees and locals to manage and prevent conflicts in their communities through dialogue work and peer mediation.
Winter holds a law degree with a focus on International Public Law from Heidelberg University, and an LL.M. with a specialization in Dispute Resolution from Pepperdine University's Straus Institute. She is pursuing a Ph.D. at European University Viadrina. Her dissertation examines how a peer-mediation training and clinic for refugees could be designed such that peer-mediation mechanisms can be established among refugee populations living in refugee shelters.
In her own mediation practice, Winter mostly deals with intercultural disputes. Previously, Winter has worked as a mediator with the L.A. Superior Court and as a consultant with On Deck Mediation, where her expertise included anti-discrimination and labor law. Additionally, she has worked with the United Nations Office of the Ombudsman and Mediation Services (UNOMS), where systemic issues within the United Nations is addressed.
2022-2023 Visiting Fellows & Researchers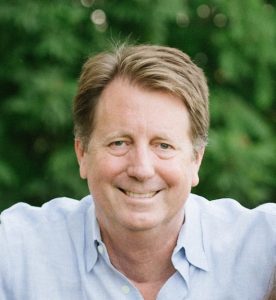 Derek Brown
Visiting Researcher
Co-director, Peace Appeal Foundation
Derek Brown is Co-Director of the Peace Appeal Foundation. Established in 2001 with the support of five Nobel Peace Laureates, Nelson Mandela, F.W. de Klerk, Desmond Tutu, Mairead Maguire and Adolfo Esquivel, the Peace Appeal works to catalyze social change processes with local partners to advance just peace.
A strong internationalist with a deep commitment to social justice, Derek's work with the Peace Appeal has focused on collaborative initiatives aiding national peace and dialogue processes in Southern Africa, the Middle East, South and Southeast Asia. Since 2017, the Peace Appeal has increased its engagement in the United States, co-initiating and sponsoring several peace education, dialogue and criminal justice reform initiatives.
Previously Derek served as Associate Chair of Ashoka, with which he maintains an ongoing affiliation as a senior adviser. In 2015-2016, Derek was a Jennings Randolph Senior Fellow at the United States Institute of Peace. He has served on the boards and advisory boards of several organizations, including the Charity and Security Network, the Constellation Project, the Social Entrepreneurship @UVA Initiative, the MBA Nonprofit Connection, New York Live Arts, and the Bill T. Jones/Arnie Zane Dance Company.
He holds an MBA and Certificate in Public Management from the Stanford University Graduate School of Business and a BA in History from Yale University. An avid hiker, cook and amateur cellist, Derek resides in Charlottesville, Virginia, with his wife, Deborah Hellman, a professor of law, and their two daughters.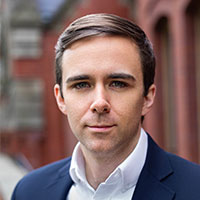 Tim McDonald
Visiting Researcher, Pardee RAND Graduate School
Ph.D. Candidate, Pardee RAND Graduate School
Timothy McDonald is a Graduate Fellow at the Pardee RAND Graduate School, and an Assistant Policy Researcher at the RAND Corporation. His research focuses on helping leaders respond to disruption by developing and implementing strategy to address the systemic drivers of societal challenges. This includes developing methodological approaches to strategy and negotiation, and applying the methods to specific domains.
He has contributed to analyses in national security, strategic competition, and the design of economic, education, and health systems. He is a co-principal investigator of a research program in consumer-driven health system reform, and at RAND he co-facilitates the Initiative on System Transformation. His research has been published in the American Journal of Health Economics, American Journal of Managed Care, Journal of Policy and Complex Systems, and in RAND research reports on systems analysis, decision making under deep uncertainty, strategic competition, and national security. He holds an M.P.P. in business and government from the Harvard Kennedy School, and a B.A. in political science from Hamline University.
2021-2022 Program on Negotiation Graduate Research Fellows
Jungwoo Chun, Ph.D. Candidate, Massachusetts Institute of Technology Department of Urban Studies and Planning; Director, Massachusetts Institute of Technology Cybersecurity Clinic
Tim McDonald, Ph.D. Candidate, Pardee RAND Graduate School; Assistant Policy Researcher, RAND Corporation
Nicolás Parra-Herrera, S.J.D. Candidate, Harvard Law School
Helen Winter, European University Viadrina
2020-2021 Program on Negotiation Graduate Research Fellows
Brenda Dvoskin, SJD Candidate, Harvard Law School
Benjamin Naimark-Rowse, Ph.D. Candidate and Topol Fellow in Nonviolent Resistance, The Fletcher School, Tufts University
2019-2020 Program on Negotiation Graduate Research Fellows
Aria Ritz Finkelstein, Ph.D. Candidate, Department of Urban Studies and Planning, MIT
Rob Grace, Ph.D. Candidate in Political Science, Brown University
Fady Khoury, S.J.D. Candidate, Harvard Law School
Samantha Lakin, Ph.D. Candidate, Strassler Center for Holocaust and Genocide Studies, Clark University
2018-2019 Program on Negotiation Graduate Research Fellows
Talia Gillis, Ph.D. Candidate, Business Economics, Harvard Business School and Economics Department, Harvard University; S.J.D. Candidate, Harvard Law School
Gali Racbi, S.J.D. Candidate, Harvard Law School
Benjamin J. Spatz, Ph.D. Candidate, Fletcher School of Law and Diplomacy, Tufts University
Yasmin Zaerpoor, Ph.D. Candidate, Department of Urban Studies and Planning, Massachusetts Institute of Technology
2017-2018 Program on Negotiation Graduate Research Fellows
Ashley Martin, Ph.D. Candidate, Management, Columbia Business School
Mounia Mostefaoui, Ph.D. Candidate, Economics and Political Science, La Sorbonne University, France
Annkatrin Tritschoks, Ph.D. Candidate, Uppsala University, Sweden
Aluma Zernik, S.J.D. Candidate, Harvard Law School
2016-2017 Program on Negotiation Graduate Research Fellows
Meirav Furth-Matzkin, S.J.D. Candidate, Harvard Law School
Liliia Khasanova, Ph.D. Candidate, International Law, Kazan Federal University, Russia
Taylor Moulton, Ph.D. Candidate, Sloan School of Management, Massachusetts Institute of Technology
Adepeju O. Solarin, Ph.D. Candidate, Political Science, Albert Ludwigs University of Freiburg, Germany
2015-2016 Program on Negotiation Graduate Research Fellows
Netta Barak-Corren, S.J.D Candidate, Harvard Law School
Michael Baskin, PhD Candidate, International Affairs, The Fletcher School of Law and Diplomacy at Tufts University
Yookyoung Kim, PhD Candidate, Management and Organization, University of Southern California
Elizabeth Wiley, PhD Candidate, Management, Columbia Business School
2014-2015 Program on Negotiation Graduate Research Fellows
Arvid Bell, PhD Candidate, Political Science, Goethe University Frankfurt
Vera Mironova, PhD candidate, Political Science, University of Maryland
Todd Schenk, PhD Candidate, Environmental Policy and Planning, Massachusetts Institute of Technology
Boshko Stankovski, PhD Candidate, Political and International Studies, University of Cambridge
Abbie Wazlawek, PhD Candidate, Management: Organizational Behavior, Columbia Business School
Dana Wolf, PhD Candidate, Public International Law, American University Washington College of Law
2013-2014 Program on Negotiation Graduate Research Fellows
Alexandros Sarris, PhD Candidate, Public International Law, University of Leiden
Sarah Woodside, PhD Candidate, Sociology, Boston College
2012-2013 Program on Negotiation Graduate Research Fellows
Alexander E. Kentikelenis, PhD Candidate, Department of Sociology, University of Cambridge
Corinne Low, PhD Candidate, Economics at Columbia University
Alexandra van Geen, Ph.D. Candidate, Public Policy, Harvard University
2011-2012 Program on Negotiation Graduate Research Fellows
Jeffrey S. Helmreich, PhD Candidate in Philosophy and Law, University of California-Los Angeles
Rachel Schiller, PhD Candidate at Fletcher School of Law and Diplomacy, Tufts University
Chia-Jung Tsay, PhD Candidate in Organizational Behavior, Harvard University
2010-2011 Program on Negotiation Graduate Research Fellows
Lakshmi Balachandra, Ph.D. Candidate in Organizational Studies, Boston College
Yehonatan Givati, Ph.D. Candidate, Department of Economics, Harvard University; S.J.D. Candidate, Harvard Law School
Linn Normand, DPhil Candidate in International Relations at the University of Oxford
2009-2010 Program on Negotiation Graduate Research Fellow
Sreedhari D. Desai, Ph.D. Candidate in Organizational Behavior, University of Utah
2008-2009 Program on Negotiation Graduate Research Fellows
Mohamad Al-Ississ, Ph.D. Candidate in Public Policy Kennedy School of Government, Harvard University
Zev J. Eigen, Ph.D. Candidate Sloan School of Management, Massachusetts Institute of Technology
Michelle I. Gawerc, Ph.D. Candidate in Sociology Boston College
B. Kelsey Jack, Ph.D. Candidate in Public Policy Kennedy School of Government, Harvard University
Heather Pincock, Ph.D. Candidate in Political Science Program on the Analysis and Resolution of Conflicts (PARC), Maxwell School of Citizenship and Public Affairs, Syracuse University
2007-2008 Program on Negotiation Graduate Research Fellows
Dipali Mukhopadhyay, Ph.D. Candidate Fletcher School, Tufts University
Andrea L. Strimling, Ph.D. Candidate Fletcher School, Tufts University
2006-2007 Program on Negotiation Graduate Research Fellows
Ariel Avgar, Ph.D. Candidate Cornell University School of Industrial and Labor Relations
Alexandra Crampton, Ph.D. Candidate in Anthropology and Social Work University of Michigan
Fiona Greig , Ph.D. Candidate in Public Policy and Doctoral Fellow Center for International Development at Harvard University
Carmit Tadmor, Ph.D. Candidate Organizational Behavior and Industrial Relations at the Haas School of Business, University of California at Berkeley
2005-2006 Program on Negotiation Graduate Research Fellows
Catherine Ashcraft, Ph.D. Candidate Environmental Policy Group Department of Urban Studies and Planning, Massachusetts Institute of Technology
Daniel J. Benjamin, Ph.D. Candidate Department of Economics, Harvard University
Dolly Chugh, Ph.D. Candidate Department of Psychology & Harvard Business School
Mara Hernandez, Ph.D. Candidate Sloan School of Management, Massachusetts Institute of Technology
Yuval Procaccia, S.J.D. Candidate Harvard Law School
2004-2005 Program on Negotiation Graduate Research Fellows
Zvi Altman, S.J.D Candidate Harvard Law School
Nava Ashraf, Ph.D. Candidate Harvard University, Department of Economics
Ian Wadley, Doctoral Candidate, JSD, Boalt Hall School of Law University of California, Berkeley
2003-2004 Program on Negotiation Graduate Research Fellows
Amal Jadou, Ph.D. Candidate The Fletcher School of Law and Diplomacy
Elizabeth Long Lingo, Ph.D. Candidate, Program in Organizational Behavior and Sociology Harvard University and Harvard Business School
Jennifer L. Schulz, S.J.D. Candidate, Faculty of Law University of Toronto
2002-2003 Program on Negotiation Graduate Research Fellows

Gabriella Blum, S.J.D. Candidate Harvard Law School
Pacey Foster, Ph.D. Candidate Boston College
Kessely Hong, Ph.D. Candidate Harvard University Graduate School of Arts and Sciences Kennedy School of Government
2001-2002 Program on Negotiation Graduate Research Fellows
Michèle Ferenz, Department of Urban Studies and Planning, MIT
Stephen Garcia, Department of Psychology Princeton University
Gregg Macey, Department of Urban Studies and Planning, MIT
Avishalom Tor, Harvard Law School
Noam Wasserman, Harvard Business School
2000-2001 Program on Negotiation Graduate Research Fellows
Brian Blancke, Syracuse University
Jason Corburn, Massachusetts Institute of Technology
Chang In Shin, Pennsylvania State University
Hannah Riley, Harvard Business School
Joshua Weiss, George Mason University